Now  The Taphouse Bar and Restaurant
Annwell Lane
Smisby
Ashby-De-La-Zouch
Leicestershire
LE65 2TA
Tel: 01530 413604
Contact: Mr P A Lathbury
Restaurant within a local pub located in the village of Smisby between Woodville (Swadlincote) and Ashby de la Zouch
Monday to Wednesday nights – Lite Bite menu
Thursday nights – curry night
Friday and Saturday nights – a la carte
Sunday lunch – 3 course meal £7.95
Review of Meal at Annwell Inn Smisby  17/9/2019
First let me say that you can't fault it for value for money.  I'm a bit odd and I often like 2 starters instead of a main meal.
So our meal order consisted of a prawn platter on the menu with brown bread and butter garlic mushrooms with cream brandy garlic and coriander sauce and garlic toast and cod and chips along with 2 175ml glasses of red wine and a diet coke all for less than £19.
Now this is where I get frustrated.  No you can't beat it for value for money I have to admit but the Annwell Inn Smisby is so close to being a really good restaurant yet the small things that I feel are important are missing.
The size of the prawn platter was huge about 3 or 4 times the amount in other restaurants/pubs and it was served with a decent amount of lettuce and 2 slices of cucumber.  It would have been far better to have served less prawns and dressed the salad up a little – it doesn't take much a wedge of lemon a little tomato a sliver of carrot or onion or pepper etc..
Quantity isn't everything.  It's not that you could fault the quality of the food just that I would prefer to see those few extra touches even if it cost more.  Another real grouse of mine is when you see something on the menu and they serve something different without mentioning it.  The prawn platter should have been served with brown bread and butter but it came with white maybe no big deal but not all of us like to eat white bread.
The mushrooms were plentiful and very rich although the garlic was raw and the brandy harsh and the garlic toast which I was really looking forward too turned out to be toasted bread rolls unbuttered no garlic.  The pepper mill being empty and falling apart in my hands didn't help much either.
The cod and chips came with 2 good pieces of fish with peas carrots and broccoli and frankly couldn't be faulted.  I think the batter is the chefs own made with beer.
The service was friendly but certainly not 'up-market' with little gems  offered to the next table like "we ain't gorr any of them no more" and with our bill "ignore the pencil bits rubbed out -they're not yours".  They were very pleasant and helpful though so no complaints there.
Would we go back again.  Yes we certainly would mainly because the Annwell offers excellent value for money.  What makes me sad is that it should do much better than 4 tables at peak time on a Saturday night.  It has the makings of a fine high standard restaurant but just doesn't quite get there.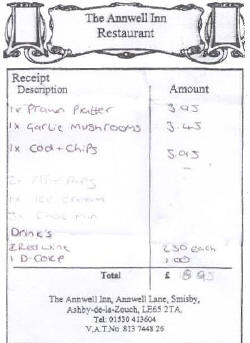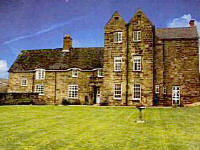 Smisby Manor Annwell Lane
Adverts Follow
Smisby Village Community Website