BENIDORM SPECIAL OFFERS COMING SOON
Looking for Holiday Reviews in Holidays Benidorm?
Holidays Benidorm Holiday Reviews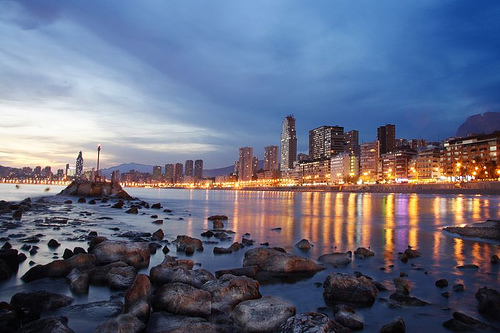 Benidorm is the best known resort on the Costa Blanca, 140km from Valencia and 50 km from Alicante. Both of these cities have international airports.
Benidorm has a wonderful natural environment protects the city from its modern skyscrapers.
Benidorm Highlights:
Levante beach, busy all the time and the best known by tourists.  The beaches, internationally recognized for its beauty and quality of services in addition to the small harbor that separates them, and provides a wide variety of water sports.
Poniente Beach: cozy and quiet. The water of its beaches, crystalline green hue has a pleasant temperature throughout the year.
Benidorm delights us with a variety of trendy boardwalks, crowded and a fun atmosphere.
The old castle, now Mediterranean balcony offers a stunning view of Benidorm.
Without doubt, the most characteristic that draws the profile of Benidorm are its skyscrapers. As an example, the city boasts proud to offer the highest hotel in Europe, whose views from the terrace are captive.  However, Benidorm also hosts many luxury villas, most exclusive, to suit all tastes.
The city has a diverse tourist offer: live music, lively bars and restaurants, theme and water parks, beaches and sun. Benidorm is fun and color all year, all day and all night.
Hotel Map Benidorm
Things to do on Holiday in Benidorm
Suggestions from around the world for fun things to do on holiday.
Find more things to do on Holiday
Have a Picnic
Lie back on your towel and look for shapes in the clouds.
Build a Sandcastle
Find a few pebbles and see who can throw a rock the farthest out into the water or create the biggest splash.
Walk along a jetty.
Search for AirBnB holidays in Benidorm Holidays Benidorm
Having heard so many horror stories from hosts and travellers alike, and been on the receiving end of their 'little hitler' attitude, we are no longer recommending AirBnB. Please try Booking,com or TripAdvisor!