Wondering about sorting vacations? We are pleased to announce that Worldwide Holiday Packages will soon be posting more articles on sorting vacations, holiday events in Hurghada and in the whole south Sinai. Local News, Special offers from hotels such as Dana Beach Resort Hurghada, Announcements for latest events, Openings of new Hotels, Diving centers and Clubs. All is now available at your finger tips so let us help with hotel room for your next trip. Be a frequent visitor, we have some top quality hotels, and make use of our fast growing, free of charge services before you book your next trip to the resort in Hurghada. Let us help turn your next holiday into the trip of a lifetime!
Looking for Holiday Reviews for the Dana Beach Resort Hurghada?
Dana Beach Resort Hurghada Holiday Reviews
"We pre-booked an airport transfer for when we landed which I would highly recommend, if it wasnt for them I don't think our room would have been as good because we tipped them before getting into the hotel and we're sure the guide told reception to give us a good room. Spotless hotel, always people cleaning, even in the toilets!… "
"This hotel is not a 5 star as such more of a 4, although they really have got the service right, the complex is huge, the junior suites are very nice the food is very good, lots to do, going back in sept for a week in 09 more "
"Just returned from two weeks at Dana Beach and must say it is the best hotel we have ever stayed at. We have two children aged 11 and 9 who loved their time there. We were put into room 6120 which is not the best room to be fair but we only slept in it so it was adequate. We… "
"We stayed at the Dana Beach for one week at the end of May. We selected the location and hotel as we were looking for a relaxing week on a beach in the sun for a reasonable price and the hotel perfectly fit the bill. We got a room near the main reception which at first we were very disappointed… "
"We stayed here for 7 nights ta th ebeginning of June. Like everybody else we had read the reviews of what to expect before we went. We arrived late at night and were shown to our room which had 3 single beds in it, didn't have the pool view we had asked for and was on the 4th floor, which… "
"Just back from a weeks stay here and had a great time. Arrived late a night, so no food as such, but reception got us a baguette each to stem our appetites until morning. Taken to our room in a buggy (which we promptly changed as it was ground floor looking to the back of hotel) new room was great,… "
"booked this holiday on strengths of other reviews.was not disappointed.lovely hotel,great location.best food we have ever had on an all inc package.only downside was the multi purpose rat poison/weed killer/paintstripper they serve at ythe bars.i think its industrial alcohol with a dash of water,a bit of colouring and some kind of flavouring they all smelt and tasted the same FOUL… "
"This hotel is lovely. However, I agree with other guests that the reception staff are not particularly helpful and a little grumpy. We arrived early evening and after booking a family room, were given 2 separate rooms but this was promptly rectified. Also, we were not given any guidance about restaurant times, or shown where our rooms were – we… "
"My Husband and myself have just returned from this hotel and would say its one of the best hotels we have stayed in, in Eygpt. We would say its a 5* The room we had was quite small, very clean and overlooked the Keiser Restrurant and entertainment, but we liked it, it had everthing you need. Towels changed every day,… "
Hurghada Hotels
Some fantastic ideas for interesting things to do in Egypt
Go to the map for suitable areas!.
Buy ornaments made of Great Sand Sea Glass of the Libyan Desert. (Cairo)
Reef diving in Elphinstone Reef. (Marsa Alam)
Discover The Lost City of Heracleion in Al Maadeyah. (Cairo)
Visit St.Catherine's Monastery – Sacred Monastery of the God-Trodden Mount Sinai. (Dahab)
Visit St.Catherine's Monastery – Sacred Monastery of the God-Trodden Mount Sinai. (Dahab)
More Hotels in Egypt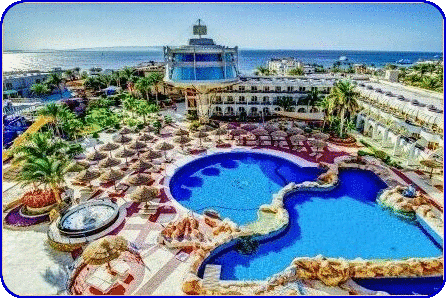 Take a Taxi to Hurghada
Egypt is an absolute nightmare for auto travel and getting to the Dana Beach Resort Hurghada or nearby resorts can get a real pain. So why not take a pre-booked taxi and arrive at your hotel relaxed? You really don't want to take a random taxi, even at the airport, so try and book a reputable Hurghada taxi firm in advance.

Popular Hotels This Week