Read more Coral Sea Resort Reviews Below
Worldwide Holiday Travel visited the Coral Sea Resort  28th September 2019 to 12th October.  Our review is detailed here. 
If you are the manager or owner of the Coral Sea Resort or are employed by the Coral Sea we would be happy to include any reply in it's entirety. 
Review of the 4* Coral Sea Resort Sharm El Sheikh Egypt by Worldwide Holiday Travel  October 2019
Photographs from our visit to the Coral Sea Resort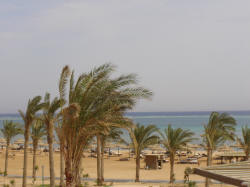 Surroundings:  Excellent well maintained family oriented hotel running all-inclusive.
Location: On the Beach.  As with most Sharm el Sheikh Hotels distant from the resort which is easily accessible by taxi or shuttle (courtesy of the hotel).
Food:  Good on the whole.  5* in places with plenty of variety.  Don't expect bacon – this is Egypt – but you will never be short of something to enjoy.  For those who say the food is repetitive I would comment that if you load your plate with every dish available ie chicken beef pasta etc. then yes you might find it a struggle to have something different by the end of the week.  The only criticism is the Italian where the service quick the food boring and we had a very surly waiter.  Considering you pay for drinks here and have to book in advance in my opinion it's not worth the effort.
Service:  Not 5* certainly but you can tip the waiter a small amount and to serve you if you don't want to queue for drinks.  Having said that there is never a long wait..  In the restaurant drinks service was
acceptable although the waiters here were a little less friendly than in other areas.  Fantastic service from the pool boys especially 'Bob' on the beach.  The restaurant service was a little variable this time.  It was excellent last time we stayed.  It was early in Ramadan when we arrived and perhaps staff changeovers affected it.  The second week the service was back to it's normal pace.  We tipped the towel boy £2 on our first day and he actually offered it back saying he went home in 3 days so he couldn't look after us all week.
Entertainment:  I would say this was average compared to most similar holidays but it is perhaps the one thing that lets the hotel down.  It's a shame really as it could be really good. 
First the outside acts a little boring and at least one the Tito Show was repeated both weeks we were there there is only so much male shimmying I can take.
The kiddie's disco is what you'd expect and the First Choice reps were better than any I've seen at keeping the kids entertained and under control when necessary. 
One game of cash bingo each night before the main entertainment with prizes up to £140. 
HOWEVER – they had the most appalling spot between the kids disco and the bingo EVERY NIGHT called 'Challenge the Entertainer'. Admittedly the kids won more often than not but can you imagine what happens to a 7 year old on the stage sometimes on their own or with a sibling?  Bad enough to lose but to have the entertainers and audience pointing and singing 'You're thick you're thick you are you're thick'!!!  Really First Choice is that supposed to be entertaining
humiliating small children?  We saw at least two in tears when they left the stage.
On a better note the 3 shows we saw over the 2 weeks performed by the First Choice Team were the best we've ever seen.  This was largely due to Jamie and Leslie who are very talented and some brilliant choreography.  Erin who I think runs the team actually comes alive when she performs.  I suspect she has been doing it for a while and she seems a bit jaded otherwise.
Room:  As with most of this resort the room was excellent value for money very spacious clean and well equipped with hairdryer toiletries and free safe.  The mini bar is chargeable – a few complaints there from people with kids. We had a sea view and loved being right on the beach.
First Choice:  Waste of time attending the welcome meeting.  When will they wake up to the fact that we want information not a sales talk about over-priced trips.  The first time we went to this resort First Choice sold it as a best for adults.  If you want child free avoid the Coral Sea at all costs.  We complained bitterly to First Choice and got a paltry £50 refund.  Having said that we returned outside the kids holidays and put up with a few kids in return for being at this very well run hotel.
All Inclusive:  Much on a par with other all inclusive facilities although the food is better than most.  The cocktails were infinitely better than the Sol y Mar Mirabel Beach which is supposed to be 5*!
Is it 4*?  Yes it is.  But for the tendency to catering for families it wouldn't take much for this hotel to be 5*.
Finally:
One of the things I like is that this hotel is exactly what it aims to be – a good 4* all-inclusive family holiday.
It is extremely well managed.  Any minor problems are attended to instantly.  Our air conditioning normally very efficient seemed a bit warm one day.  It was dealt with instantly.
Around reception you will be asked for your comments and these will be taken on board.
Wardrobe space was more than adequate.  Another pet hate of mine is not having enough space but no problems here.
The beds are comfortable and the maid service excellent.
The pools are great and heated when required.  The beach is to die for and compared to the 5* Sol y Mar a few minutes away it doesn't feel too crowded.  Do take water shoes as the sea if full of coral great for snorkelling not so good on the feet!
Diving:
We can wholeheartedly recommend the diving centre at the Coral Sea.  Try a discover Scuba course or maybe even something a bit more adventurous.  Best to contact them direct though and save yourself 10%.
Red Sea Diving at the Coral Sea Resort.
Would I go back to the Coral Sea Resort?
Absolutely – again and again.
Coral Sea Resort   Their website Coral Sea Resort
Nabq Bay
Sharm el Sheikh
Egypt
Tel: 0020 693 710500
]]>
Location
The resort is approximately 10km. distance from Sharm El Sheikh International Airport taking about 20 minutes to transfer
369 rooms; 3 floors
All Inclusive What's Included:
Buffet breakfast lunch and dinner
All domestic brand alcoholic drinks by the glass including beer wine and spirits and soft drinks between 11am – midnight
Afternoon tea
1 visit to the á la carte restaurant per stay – drinks are payable locally
Snacks between 11am – noon
Ice cream for kids between 11am – 3pm
Rooms at the Coral Sea Resort:
Standard rooms sleep up to 4. Twin beds (extra beds are a sofa bed and fold up bed) bathroom with shower air-conditioning mini-bar* safe satellite TV telephone and hairdryer with garden views.
Standard rooms with 1 king-size or twin beds bath and balcony or terrace are available at a supplement.
Standard rooms with 1 king-size or twin beds bath balcony or terrace with sea views are available at a supplement.
Select rooms with 1 king-size bed facilities as Standard rooms with bath tea & coffee making facilities DVD player bathrobes and balcony or terrace with sea views.
Select Jacuzzi rooms. Facilities as Select rooms with the added luxury of a Jacuzzi bath.
Select Jacuzzi Junior Suite. Facilities as Select Jacuzzi rooms with a lounge area.
Sports at the Coral Sea Resort:
Scuba diving (payable locally)
Snorkelling (payable locally)
Tennis court (floodlit payable locally)
Multi-sports court (payable locally)
Table tennis (payable locally)
Beach volleyball
Amenities at the Coral Sea Resort:
2 outdoor swimming pools
2 children's pools
Sun terrace
Sunbeds & umbrellas – free pool towels
 2 restaurants (including buffet restaurant and Italian a la carte restaurant reservations required for Italian restaurant)
Poolside bar
Beach bar
Irish style pub
Shopping arcade (payable locally)
Internet facilities (payable locally)
Laundry service (payable locally)
Amphitheatre
Kids club
Fitness centre
Gym
Sauna
Indoor Jacuzzi
Steam bath (payable locally)
Spa (payable locally)
Beauty salon (payable locally)
Hairdressing salon (payable locally)
Massage (payable locally)
Visit  more review sites for Coral Sea Resort.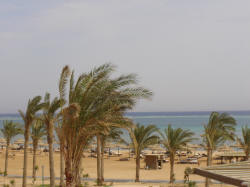 Submitted By: Mr M Sweeney
Overall Rating: 10/10
Comments: Been back in the UK for just over a week and have been sick and had an infection. NOTHING while I was at the Coral Sea Resort tells you something about this country that could be learned from the staff at the resort.
This year was our second time in a row at the Coral Sea and we found it even better than last year we were there when the resort had only recently been finished and a couple of weeks after the bombs in 2018.
This year we brought our two teenage sons with us and we hardly saw them they made friends with others of their age and off they went the staff and shop keepers saw them more often than we did my 15 year old has vowed he will come back to the Coral Sea some day himself.
This was our last holiday away together as a family as he joins the army next year and our youngest is away at army cadet camp next year. My wife and myself had booked to go to Cuba next year but because of the time we had this year we have changed our plans and are returning to the Coral Sea again next year (3 times in a row) we're not boring we just know quality when we see it taste it and feel it.
From the moment we walked off the bus to the moment we left to come home we were looked after and pampered by a team of staff that aren't paid enough for what they do.
We have travelled to lots of other places around the world even some 5*s and they don't compare how a hotel can get a 5* rating in Egypt must be something else.
I have read the other comments about the resort and would respond to the complaints that you were looking for an 18 30 club holiday in the wrong place and that a holiday is what you make it we didn't go far from the resort last year went to Luxor – long day fantastic guide history and culture blast but 61.5 degrees centigrade was a tad hot for this Englishman even the dogs weren't that mad.
Dolphinella was the most foul display of animal cruelty I have ever seen. So this year we said chill by the pool and a little snorkelling – the Coral Sea gave us a complementary sunset cruise (no need of tip) was the most beautiful thing we have seen taken to a large dive boat taken to a bay off Ras Mohammed and watched the sunset behind the Sinai Mountains then a lovely 3 course meal after having seen dolphins swimming around us (wild ones) brought back to the Resort – from 4:30 to 10:30 it was fantastic.
We spent every night in the lounge chatting with other guests met Lynn and Billy the Bournville Brummies and their son Nicholas we sat drinking and talking till after midnight and they are going back too can't be to bad- one minor point the resort doesn't serve cider in fact nowhere in Egypt apparently but Billy found a stop gap – apple juice and lots of vodka APPLE PICKERS. HOLIDAY IS WHAT YOU MAKE IT!!!!
So to Ahmed Walid and Shady in the Bar Miriam and Company in the Dine Around and especially Mohammed in Booking – thanks for a great time and see you next year
===================================================
More Coral Sea Resort Reviews:
We heartily recommend you try the Coral Sea Resort and do email us if you want to ask about anything but if these reviews of the Coral Sea Resort have changed your mind about booking this resort for your holiday you make like to think about alternatives by visiting our Egypt page.
Coral Sea Resort Hotel Sharm El Sheikh Egypt on Holiday Watchdog Read user reviews on Coral Sea Resort Hotel on Holiday Watchdog
Coral Sea Resort Nabq Bay Sharm El Sheikh on Trip Advisor
Coral Sea Resort – Write a review –  Tell others what's hot and what's not. Sharm el Sheikh Egypt
Luxury Holidays Luxury holidays worldwide, Abercrombie and Kent offers luxury travel and luxury villas. Luxury holiday specialists providing luxury beach holidays and luxury safaris.
Holiday Resort Reviews