Wondering about sorting holidays? We are pleased to announce that Spirita Holiday Packages will soon be posting more articles on sorting holidays, holiday events in Sharm El Sheikh and in the whole south Sinai. Local News, Special offers from hotels such as Hotel Baron Palms Resort Sharm El Sheikh, Announcements for latest events, Openings of new Hotels, Diving centers and Clubs. All is now available at your finger tips so let us help with hotel for your needs for your next trip. Be a frequent visitor, we have some great hotels, and make use of our fast growing, free of charge services before you book your next trip to the resort in Sharm El Sheikh. Let us help turn your next holiday into the vacation of a lifetime!
Looking for Holiday Reviews for the Hotel Baron Palms Resort Sharm El Sheikh?
Hotel Baron Palms Resort Sharm El Sheikh Holiday Reviews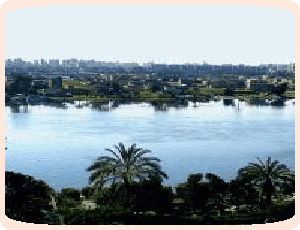 Baron Palms Hotel, best hotel in sharm by far. Service is second to none, the staff are amazingly helpful, polite, courteous, respectful and totally professional. Cant fault this place at all. One waiter by the name of Taher in the paradise pool bar is a must to go and see. Man that guy would show up ANY waiter or host in the whole of England. If you want a holiday that is exceptionally clean, very peaceful, totally relaxed and wonderful then this is the place to go to. Thanks to all at Baron Palms for a wonderful holiday. best ever!!!
Following the chaos we experienced on arrival at Sharm airport, we were welcomed into a haven of calm and peace. From arrival to departure our every need was looked after.
The room was clean and comfortable, although the view could have been better. The food in the buffet restaurant was good, but the real treat was the a-la-carte meal in the Candlelight Restaurant. The staff were friendly courteous and helpful. We were particularly impressed by Emily from the Guest Relations desk who seemed to genuinely care that you were looked after and having a good time, and who was available and happy to help should you need her.
The sunloungers around the pool were comfortable and the pools and pool area clean and well looked after.
If you are looking for a relaxing holiday where you will be looked after in comfortable clean and luxurious surroundings, you can't go wrong with Baron Palms Resort.
A very relaxing holiday. The Baron Ralms Resort was welcoming from the beginning, being met by the reception manager, the check in was very efficient and we were shown to our pool view room. Our first impression of the restaurant was good with very friendly waiters who served with a smile. The food was buffet style with plenty of choice for all tastes, lovely variety of breads we had homemade soups every meal, but the sweet display was really outstanding, the tiny china dishes and glassware that contained just a taste of different desserts( which meant you could have 2 or 3) were to be congratulated.
As previously mentioned the hotel was the cleanest we have been to.
The beach area was never really busy we could always get a couple of beds in good positions, the staff very attentive and after a couple of days bought refills without being asked.
The pontoons out across the coral have to be done to see the variety of fish without having to snorkel.
Suggestions ; more seating outside for drinks after dinner and better shops (possibly a boutique and a shop selling the china used for the sweets)
All in all a good break and we will return.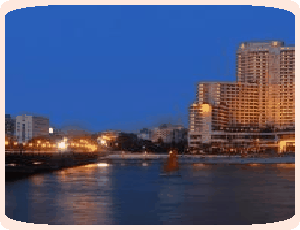 Sharm Hotels
Some fantastic ideas for exciting stuff to do in Egypt
See the map for suitable areas!.
Blue Desert (Sharm El Sheikh) Brightly painted boulders scattered throughout the Sinai Desert.
Visit the aquarium grotto garden. (Cairo)
Visit St.Catherine's Monastery – Sacred Monastery of the God-Trodden Mount Sinai. (Dahab)
Decompress on Terrazzina Beach. (Sharm El Sheikh)
Decompress on Terrazzina Beach. (Sharm El Sheikh)
More Hotels in Egypt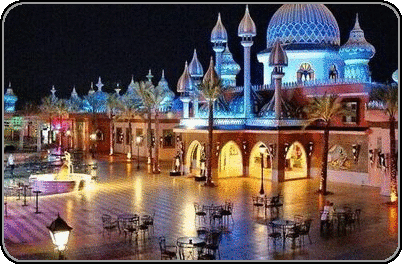 Take a Taxi to Sharm
Egypt is an absolute nightmare for auto travel and getting to the Hotel Baron Palms Resort Sharm El Sheikh or nearby resorts can get a real pain. So why not take a pre-booked taxi and arrive at your hotel relaxed? You really don't want to take a random taxi, even at the airport, so try and book a reputable Sharm taxi firm in advance.

Popular Hotels This Week