Wondering about where to go on vacation? We are pleased to announce that Worldwide Holiday Packages will soon be posting more articles on where to go on vacation, holiday events in Sharm El Sheikh and in the whole south Sinai. Local News, Special offers from hotels such as Hotel Coral Sea Holiday Village Sharm, Announcements for latest events, Openings of new Hotels, Diving centers and Clubs. All is now available at your finger tips so let us help with hotel for your next trip. Be a frequent visitor, we have some of the most amazing value hotels, and make use of our fast growing, free of charge services before you book your next trip to the resort in Sharm El Sheikh. Let us help turn your next holiday into the vacation of a lifetime!
Looking for Holiday Reviews for the Hotel Coral Sea Holiday Village Sharm?
Hotel Coral Sea Holiday Village Sharm Holiday Reviews
Just returned from a week in the Coral Sea Holiday Village. We were unsure what to expect since it was billed as a "family" hotel and we were going as a couple. It was fantastic, yes there were lots of families but it is ideal for couples too. I must admit that we didn't really participate in many of the activites but there was something on all day/every day and night to suit all tastes. It is fantastic for kids and their every need is catered for, including their own part of the main restaurant. The food in the main restaurant – breakfast, lunch and dinner was fantastic, excellent choice. You could also have your own pizza or pasta made while you wait at night and toasties and pizza at lunchtime. We only went to two of the A La Carte Restaurants – the Chinese/Asian and the Medeteranian and they were both fantastic. The beach was lovely, plenty of sun loungers and large beds. Water not too deep at the end of the jetty and you could see plenty of fish without going into deep water. My only negative comment, is that being regular visitors to Egypt, you didn't really know you were in Egypt – you could have been anywhere. We had a junior suite, room 4210, it was a lovely big room with a nice view over the gardens, pool and out to sea. There are quite a few shops/restaurants just outside the hotel and looks like more planned including Hard Rock Cafe and TGI Friday's, We will certainly visit again – excellent hotel.
Just returned from the Coral Sea holiday village after 10 days. Familys with kids wont be disapointed, we had a fantastic time.
We booked a standard room and were quite happy until mid-week when we decided to look at a swim up room. They are much bigger, with extra's and so for 20 quid per night we decided to spend the rest of the holiday in the swim up room block 13. Was fantastic as our 3 year old could just swim all day! This really made our holiday and would reccomend it. The weather was so hot whilst we were there so the water was lovely and i would recommend it to anyone traveling in the summer months.
We found the food ok, always somthing to choose from and loved the pasta, pizza and omlette section. Wasnt fantastic but did the job. We did eat at all three of the a la carte restaurants and enjoyed them all especially the Indian. My partner was ill all evening after the chinease even thou at the time we enjoyed it and i was fine so maybe not conected with the food. Apart from that none of us we ill whilst on holiday, i did however carry round the hand jel and used it regually, especially after the loo as some of them wernt very clean.
We loved the pools and our 3 year old loved the flumes and kiddy pool. Our swim up room was allways in full sun and was warm.
The village in general is well kept, gardens lovely, pools clean, rooms cleaned very well and room lads were great. I didnt take any towels and didnt need any you get them off the pool lads everyday. This saved on space in the suitcase!
We found the entertainment in the evening to be ok, our 3 year old enjoyed it as they dedicate an hour for the kids, some things i thought were a bit silly but they did have to cater for kids from baby to teenager. The shows i thought were good and felt the team worked very hard to entertain.
The staff stand out in the holiday village, anything to please attitude and was impressed with the service we received.
We did take our snorkels and went of the pier and saw quite a few fish, was worth it and if your braver try the next pier along as it is longer and you see much more!
All in all we had a great family holiday in the holiday village, really relaxing thanks to our swim up room! Would return and reccomend. happy holidays!
Sharm Hotels
Some ideas for exciting stuff to do in Egypt
Check the map for suitable areas!.
Buy ornaments made of Great Sand Sea Glass of the Libyan Desert. (Cairo)
Experience something unique at The Grand Egyptian Museum. (Cairo)
Soar over the Great Sand Sea during a hot air ballooning experience. (Dahab)
Have lunch at the Nubian island hotel. (Sharm El Sheikh)
Have lunch at the Nubian island hotel. (Sharm El Sheikh)
More Hotels in Egypt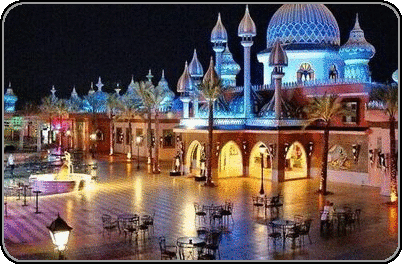 Take a Taxi to Sharm
Egypt is an absolute nightmare for auto travel and getting to the Hotel Coral Sea Holiday Village Sharm or nearby resorts can get a real pain. So why not take a pre-booked taxi and arrive at your hotel relaxed? You really don't want to take a random taxi, even at the airport, so try and book a reputable Sharm taxi firm in advance.

Popular Hotels This Week