Our recommendation is No Limits Tenerife Sport Fishing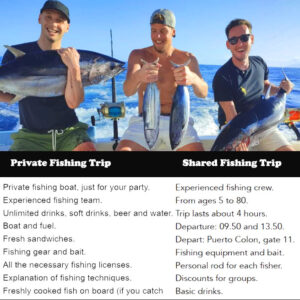 The No Limits Two is equipped with the latest fishing technology such as Shimano, Penn and Daiwa rods and reels. Black Bart lures, Williamson lures, Rapala and more.
Shared 4 hour charter
For the shared charter experience, No Limits boats equipped with all the tools and equipment necessary to guarantee a full fishing experience. You'll learn how to catch Barracuda, snappers and other species by using light tackle rods and bait. We will also troll for Marlin, Mahi Mahi, tuna, Wahoo, and many more, all of them across the coast of Tenerife! Top quality Sonar system to find the fish.
The No Limits Team will give an introductory speech before setting out to sea, explaining with detail all the techniques and procedures you need to know in order to become a true angler. They will guide you throughout the whole process, so don't worry about feeling nervous or anxious, remember this is a sharing and learning experience!
Private Charters
There are three packages available for you to select, but please contact us if you prefer 5 or 7 hours, everything is possible! Whether you want to fish tuna, marlin, wahoo, etc… we will advise you on what has been caught in the days prior to your charter and also depending on the weather.
This is your chance of taking your family and friends on this new exciting experience.
Places to Fish
Cheap Holidays to Tenerife

Tenerife Bargain Holidays is a Facebook group with over 20,000 members. It offers holiday accommodation from private owners with no middleman to charge commission. It is well moderated with members safety in mind.