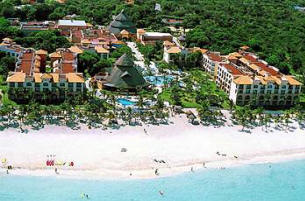 Sandos Playacar Beach Videos and recent comments
Worldwide Holiday Travel visited the Sandos Playacar Beach Resort  October 2017.  This is our review.
If you are the manager or owner of the Sandos Playacar Beach Resort or are employed by the Sandos Playacar Beach Resort we would be happy to include any reply in it's entirety. 
Our Opinion?  Brilliant – best value all inclusive we've seen to date despite minor niggles.
under construction
Review of the 4* Sandos Playacar Beach Resort Cancun Mexico    (4* Cancun Mexico standards) by Worldwide Holiday Travel  October 2017
Contact Sandos Playacar Beach Resort
Surroundings:  Excellent very pleasant garden setting for Sandos Haciendas pool view or sea view for Sandos Beach  and most (but not all) have pool views at Sandos Rivera Hotel.  See Sandos Beach Resort Map for more details.
We felt the Sandos Haciendas deserved a special mention.  These small units of 4 rooms on ground level and 4 rooms above had a pool are sunbathing area each.  Although not large pools they are a great idea for cooling off whilst sunbathing or for those with kids.  Hammocks and Jacuzzi's are also available at ach hacienda block.
Location: On the beach although the resort itself is quite large so it can be quite a trek to the beach depending on your room location.  Those in the Riviera have farthest to go but have the advantage of being closer to the adults only pool and the Asian and Brazilian Restaurants both of which are free on the All inclusive tariff.
Reception: There are two reception lobbies both efficient and very pleasant.  One is located at the front of the resort by the Riviera Hotel the other is central dividing the Haciendas from 'The Avenue'  where you will find several bars and restaurants and beyond that the Sandos beach rooms and the beach and sea it self.
One very strong criticism here.  Having left home some 16 hours earlier with a 10-11 hour flight I really don't want some-one posing as part of the Sandos welcoming committee trying to encourage me to go on a 'Sandos Club' presentation at 8 am next morning.  She was quite insistent that she would only to talk to us for 5 minutes but 15 minutes later we managed to get away only by being rather blunt.  I have heard people referring to this as the Sandos Timeshare Scam.  It isn't what it sounds but they really do themselves no favours by pushing this so hard the minute people walk through the door.
Please come back later to read more about this excellent resort.
Food:  
Service: 
Room: 
All Inclusive: 
Their website  Sandos Playacar Beach Resort   Paseo Xaman-Ha Manzana 1 Lote 1 Fracc. Playacar Playa del Carmen Quintana Roo. 77710 México Telf.: +52 984 877 40 40 Fax: +52 984 873 11 69Free phone call: 01 800 9075292
Location
Standing on a magnificent white sand beach just a short distance from the town of Playa del Carmen and the wharf for boats to Cozumel Sandos Playacar Beach Resort & Spa is located on the Mayan Riviera just 45 minutes from Cancun International Airport.
Facilities
Big Buffet Festival (Main Restaurant): International Buffet. Dress code: T-shirt and footwear obligatory
"Ola-La" Pool Bar-Restaurant: Buffet Snack
Mediterranean Restaurant: Specialising in shellfish meat and poultry with a salad bar. Dress code: Shirt long trousers and shoes required *
Broccoli no (Italian Restaurant): Italian buffet service. Dress code: Shirt long trousers and shoes required *
Gourmet Restaurant: Gourmet specialties. A la Carte service. Dress code: Slacks & shoes required
Los Alcatraces (Mexican Restaurant): Restaurant featuring à la carte Mexican specialities. Dress code: Shirt long trousers and shoes required *
Bar "La Bámbola": Café Bar
Lobby bar.
Sports Bar.
"Agave Blue": Beach Bar
Dance On Discotheque: Over-18s only
Other facilities
4 swimming pools one exclusively for adults
Full spa and fitness centre with Nautilus equipment sauna massages** and beauty treatments**
Floodlit tennis courts – medium-slow artificial grass and fast hard surface
Volleyball and basketball courts
Water sports centre with: Scuba diving snorkelling windsurfing kayaking and sailing (lessons not included)
Disco
Video games room
Covered theatre for evening shows
Kid's Club with supervision kiddies' pool Punch'n'Judy theatre mini-cafeteria play area Super Nintendo TV
Teen's Club with pool tables table tennis soccer table and soft-drink machine.
Meeting rooms and banquets for groups
Board Room.
Boutique **
Exchange bureau **
Films and photo developing **
Medical Service **
Beauty salon **
Temazcal **
Reviews about Sandos Playacar Beach Resort
Here are some recent comments:
"We found food to be really good at the Sandos Playacar Resort never have a problem finding something to eat.  Staff: Really nice hardworking people. At the restaurant most of the employees were excellent and very helpful and treat us really nice. We felt pampered most of the time they were always trying to accommodate us to eat and always made my baby smile."
"The beach was stellar probably the nicest beach in Playa Del Carmen. The sand was like soft flour and the water was pristine. There were many pools to choose from with many activities going on all day long. There wasn't any time to be bored unless you just wanted to relax. We seemed to enjoy the pool in the Riviera Section which had a swim-up-bar the most. However we used the pools in the Beach Section the most because of its central location."
"Sandos Playacar Beach Resort & Spa The night-time entertainment was great as MC Pablo and entertainment staff like Linnea and Arienne did an awesome job keeping the guests entertained on nights sandwiched in-between professional performers from Cancun and local areas. Those were nice breaks from the beach and dinner."
---
Sandos Playacar Beach Resort Videos:
Holiday Resort Reviews