Luxor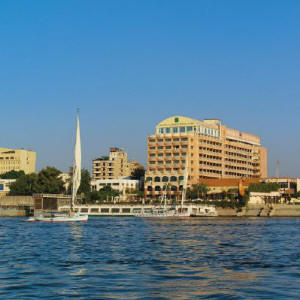 Worldwide Holiday Travel visited the Sonesta St George Luxor April 2019.  This is our review.
Note:  Normally our review for the Sonesta St George Luxor would be posted here but on this occasion I feel my email to them says it all.

Read the response from the manager of the Sonesta St George Luxor
Dear Sirs
We stayed at the Sonesta St George last week after a Nile cruise. I had stayed with you before with my sister and particularly thought my husband would enjoy this week as our previous holidays with you have been excellent. We come to Egypt often 6 times in the last 12 months.
The first half of the holiday was very good almost perfect but the last few days sadly made me feel that the hotel was going downhill fast.
We were frequently ignored at breakfast trying to get coffee and tea. Often tables weren't clean or laid. On one occasion the table was partially cleared whilst we sat at it – the waiter was then called away by his manager and never came back to finish laying it. On our last night we sat at the table with our finished soup dishes plus dinner plates and also desert plates. We had clearly finished but the dishes weren't cleared. When we finally got the waiter to ask for the bill to sign the dishes still weren't cleared 15 minutes later nor had the bill arrived. We finally left without signing. Twice we were unable to be seated in the restaurant and had to eat outside despite the fact that we could clearly see free tables.
Our massages with Mr Ahmed were excellent but we were unable to get a price list in the health centre and had to got to reception. Also twice there were no towels in the gym and no cups for the water.
I ordered soup and my husband an ice cream in the lotus bar twice and they forgot my husbands ice cream. On another occasion he reminded another waiter that he hadn't had it – I had already finished my soup and it hadn't arrived. After finishing the ice cream he paid. We were just leaving when the first waiter arrived with another ice cream.
The gentleman than runs the Banque is the most sullen person I have seen in a long time although I must say that the rest of the staff were very friendly if somewhat overworked at times. Mohammed who cleaned our room was excellent.
Halfway through the week my husband was resting with no clothes on when an American gentleman came in with a key he had been given by mistake at reception. On two occasions we returned to our room to find the cards had been cancelled and we couldn't get in.
We sent some items to the laundry one came back in the same state it went with the same marks on it. By the time I went to wear it that evening the laundry was closed. The following day after being out all day I rang just before it closed and was told it would be collected and redone free of charge. No-one came. The following day we returned in the evening and again were told it would be collected this time within 5 minutes. 15 minutes later I took the dress to reception as we has booked a felucca trip for 6pm. The dress did in fact come back clean but the item was added to the bill again. I had not signed for it as I was told it was free of charge as it wasn't cleaned in the first place.
I rang reception and asked for it to be removed from the bill and was told it would be. When we went to pay we found it was still on the bill. When I queried it we were kept waiting for 15 minutes while they rang the laundry. I was then told I should have sent it back within 24 hours which I would have done had they collected it when they first said! I ended up paying for it as the taxi had now arrived to take us to the airport.
We asked if we could book our room on the last day until 6pm and were told to come back Tuesday morning. On Tuesday we were told to return in the evening. In the evening we were told to ask next morning. In the morning we were told to come back at 11.30. At 11.30 we were told to come back at 12.30 then finally told we would have to move room. The whole point of keeping the room is to be able to enjoy the final day which was now ruined.
My husband was very impressed with the hotel and talking of wishing to return regularly after the first few days but by the end of the week both he and I were VERY disillusioned.
Whilst writing I would also comment on the state of the pontoon which is very much in need of repair and gives a very poor impression.
One couple who were with us on the boat were quite surprised that I had said they were going to a very good hotel. I found myself explaining that it wasn't usually like this. His wife told me that her husband had complained about something everyday sometimes more than once staring with the fact that we were left to find our own rooms when we arrived with no direction. She said they would never return much preferring the Sheraton.
Some of the staff had very limited English which is fine when things run smoothly but not so good when something goes wrong as it frequently did this time.
I must say that until this last week I felt the Sonesta was way superior to the Sheraton but I can understand how some-one staying with you last week would feel otherwise.
I haven't by any means listed all the things where I felt standards were well below 5 star but I think what I have mentioned should give you some idea of why we felt our holiday was not good.
I do hope that perhaps it was just a bad week unlikely to be repeated?
I look forward to your reply.
If you are the manager or owner of the Sonesta St George Luxor or are employed by the Sonesta St George Luxor  we would be happy to include any reponse in it's entirety. 
From: samir azer To: Sent: Tuesday May 08 2019 7:22 PM Subject: RE: Egypt – Luxor Website Inquiry: General Manager – Mr. Samir Azer
Dear Mrs. Clarke
First of all I would like to thank you for taking the time to write to me on the occasion of your stay at Sonesta St. George Hotel. I am writing as I am concerned about the anomaly experience you encountered during the last week of your stay in our hotel.
At the Sonesta St. George we aim to provide our guests with the highest standards of service and quality therefore for five consecutive tears the hotel has been voted the best hotel outside of Cairo. If we fall short of these standards we take it very seriously. I have had a serious word with all the department heads concerned and we have taken measures to ensure that under any circumstances our expectations and those of our guests are met by all the staff .
Once again please accept our apologies for this inconvenience. I thank you for your understanding and I am therefore looking forward to welcoming you personally again to Sonesta St. George Hotel . Dear Mrs. Clarke you can rest assured of our endeavor to make your upcoming stay with us the most enjoyable one ever.
Yours Sincerely
Samir Azer
General Manager
Sonesta St. George Hotel Tel : 095 238 2575 Fax : 095 238 2571 Email : ?????@sonesta-hotel-luxor.com www.sonesta.com
General Manager
Sonesta St. George Hotel Luxor
0952 382576
Read more Sonesta Luxor Reviews Below
Review of the 5* Deluxe Sonesta St George Luxor Egypt by Worldwide Holiday Travel  April 2019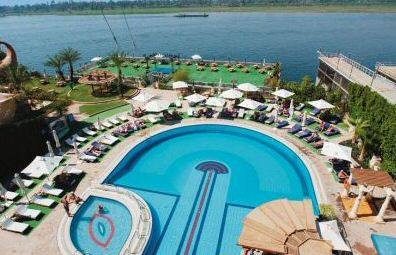 Surroundings: 
Location:
Food:  
Service: 
Entertainment: 
Rooms: 
Is it 5*? 
Fitness and Treatment Centre: 
Finally:
Would I go back to the Sonesta St George?
Sonesta St George Luxor  Their website Corniche El Nile Street Luxor
Tel : 20-95-2-382575 through 78 or 800.SONESTA (U.S. & Canada)  
Location
Luxor
On bank of the Nile
1.5km to Luxor centre
Swimming pool
Outdoor swimming pool
Sunbeds
Sun terraces
Swim-up bar
Poolside terrace
Meals
Spacious dining room with non-smoking area serving buffet meals
Japanese restaurant
Italian restaurant/24-hour coffee shop
Oriental restaurant
Christmas and New Year's Eve gala dinners
Activites
Darts
Swing ball
Table tennis
Billiards
Lounge bar
Beauty salon
Health club with sauna whirlpool bath steam bath and gym with trained staff
Shops bank and business centre
Room facilities
2 or 3 beds
Satellite TV
Telephone
Radio
24-hour room service
Minibar
Hairdryer
Safety deposit box
Air-conditioning with individual climate control
No. of rooms
224
No. of lifts
3
Other facilities
Lounge bar
Beauty salon
Shops bank and business centre
Visit  more review sites for Sonesta St George Luxor Egypt.
Sonesta St George – Luxor Portland Direct June 2019 Lisa Kissane Birmingham 40 38 Having just returned from Egypt I would like to say that the Sonesta St George was absolutely fabulous. The staff couldn't do enough for you and were very friendly. Naghar worked her socks off around the pool. No need to take towels as these are provided around the pool. No need to worry about sunbeds at the Sonesta St George these were always available whenever we went to the pool. As far as excursions go don't book with the rep they are far cheaper from any of the tours/travel operators outside the hotel. We used Moon River 2 min walk from hotel and saved a fortune. Eating out is ok too – we found snobs bar 2000 7 days 7 ways and the lantern were all good places to eat. Drink in the hotel was about the same as what you pay at home but outside was half the price and you could buy take outs and bring them back to the hotel. The Italian restaurant in the Sonesta St George was good as well as the breakfast and the pool snacks (this was same menu as the lotus cafe inside the hotel which is open 24 hours). We never tried the Japenese but did note that it was quite expensive compared to the rest of the hotel. Rooms were lovely towels changed twice every day if you wanted them changed and also bed linen. Every night when we went back to our room our cleaner had closed the curtains and opened the bed for us – nice touch I thought. Nobles bar staff were brilliant and a good laugh. We were watching the World Cup football in there and the staff did get a bit excited sometimes but glad to see they were supporting England. Overall the Sonesta St George was a fantastic holiday but bear in mind that this time of the year temperatures were reaching 50 degrees in the day. Only down part was the hassling outside the hotel but having been to Tunisia before we knew just to say no thank you. If children hassle we said 'EMSHEE' – this means go away and the children did every time we said it. We are planning on going again next year as we didn't get to see all the attractions and will be staying at Sonesta again. It's the best hotel in Luxor.
If these reviews of the Sonesta Luxor have changed your mind about booking this resort for your holiday you make like to think about alternatives by visiting our Egypt page.
Holiday Resort Reviews