History of Skegness
Before the late 1800's Skegness was little more than an insignificant coastal village. Wainfleet some 5 miles inland had a far more coloured history than  neighbouring Skegness. Events really began to take off at the turn of the century with the development of the railway networks and for the first time ordinary working people from the midlands could economically visit the coast and enjoy the miles of golden beaches and fresh air. Thus early Skegness tourism was born. The town was possibly at the height of its popularity in the 1920's and 1930's prior to the mass ownership of motor cars following World War 2.
Home of Butlins Redcoats
This Page is part of a set dedicated to the worst holiday I can remember ever having and Butlins Skegness takes 1st prize!  Start at Butlins Holidays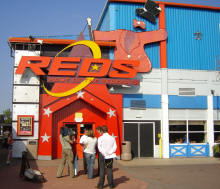 If you've read everything I have to say about my Butlins Skegness Holiday and you still feel you would like to go to Butlins then you will find links on this page and others directing you to Butlins and other Skegness holidays.
Skegness – 1930 to 1939
---
Try this website for Holidays in Skegness but avoid Butlins unless you actually can live with the type of Butlins holiday described on this site.  They do have a page for Butlins Skegness – your choice!