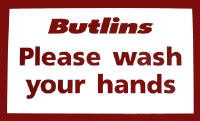 Seen in the toilets near the slot machines
When it comes to Butlins Holidays   that says it all!
If you are looking for a Butlins Holiday then this is the place for you.  Find out all you need to know about Butlins and their Holidays before making your mind up.  If you decide to book a Butlins holiday after reading this well good luck to you! Do you remember Butlins Holidays from years gone by?  Me too.  I am 68 and I had my first Butlins Holiday when I could barely walk.  I have to say I haven't been since my teens until I decided to take a holiday with my grandchildren.
I thought Butlins would be a great family holiday for the kids and good for 'Mom and Dad' since they wouldn't be shelling out money left right and centre.
How wrong could I be thinking Butlins Nostalgia was a good idea.
Now I'm not saying my views on Butlins Holidays will necessarily be yours but if you recognise yourself when you read my review then you may want to think twice before making the same mistake I did. I went to Butlins Skegness but reading other peoples views of their holidays at Butlins it doesn't look like the other resorts are any better.
Butlins Holidays are not for me and frankly if you're reading this far I doubt Butlins will be for you either. Butlins Cheap Deal?  Read what I think of Butlins Cheap Holiday Deal.
If you want more info about this miserable holiday park then click the links to the pages as you read on.  If you have great holiday memories of Butlins Red Coats don't read this.  Keep you memories.