More Butlins pages at Butlins Holidays
Butlins Late Deal – one of the few free activities.
Here are photo's of the few happy moments of our holiday on our Butlins Late Deal.  Frankly it was a late booking but it wasn't much of a deal!
The soft play area, see above and below, was not open late so we found limited things to do with the kids in the evening.  One of the stupid things was that they tried to tell us that my granddaughter, who is 4, was too big.  They wanted her to go in one side and her brother aged 3, to go in the other.  Then my son-in-law, who was totally p****'d off with their attitude and the distress they caused the children, spent the next hour playing with them both, and guess what, he's 6 foot and no-one said a word!  See Immy below, a normal 4 year old!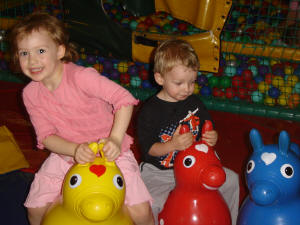 (See Butlins Cheap Deal for the truth about just how much you can really spend at Butlins.)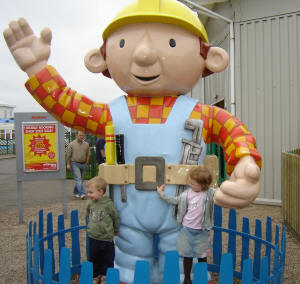 If you are still thinking about booking your Butlins Late Deal, then just give a thought to the fact that you will probably get the worst accommodation.  Late Deals inevitably means the best has gone and you will almost certainly have stairs to cope with.  See below and decide whether you want to do this late at night!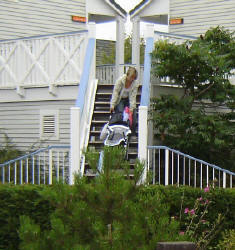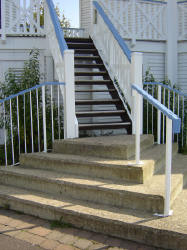 And while we're still on the subject of  'late', nothing to do with a late deal at all, but just another niggle.  After a long walk from our accommodation, we eventually found the Crazy Horse Saloon with 10 minutes to spare before the bingo started.  Yes you've guessed it.  We were too LATE!  They saw us arrive and quickly put the tickets out of sight, telling us, 'sorry, you're too late'.
So there you have it.  In my view Butlins Late Deals are not good deals and you'd be better of looking elsewhere!