More Butlins pages at Butlins Holidays
Find out all about Butlins Cheap Deals and Holidays at this website.  Book your cheap deal holidays from here but don't make it a Butlins Cheap Deal!
I'm not going to say too much about Butlins Cheap Deal.  I'm more inclined to let the pictures tell the story.  You might want to have a look at Butlins Prices too.  If all you want is a cheap deal then you may not be interested in which case go book your Butlins Cheap Deal.  If like me you think there is a big difference between cheap and cheerful and cheap and nasty then take a look at these pictures.
I have snapped everything on one side of the walk way from the half way point between our accommodation and where we had to walk to to eat.  Not many 'deals' that I could see and certainly not cheap when you add up how much kids can ask for.  It's all money money money and NOTHING is cheap if you like value for money.  The only thing I've missed out is the Spa and you won't find any cheap deals there unless you buy a spa break for 2 days after you've already bought your Butlins cheap deal for the week.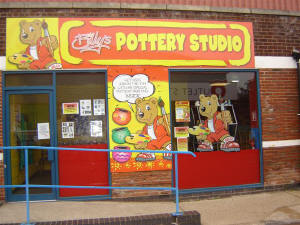 Is this Cheap???
You may think this is cheap at £1.50 but then that's for 10 minutes so half an hour is £4.50.  If you have 3 kids that's £13.50 before you've even had breakfast!  Not my idea of cheap.
Billys Funs House – a real fun deal but is it cheap at £1.50 for 10 minutes?
Not a cheap deal exactly as it costs nothing to walk in but wait and see if you can get in and out without buying anything.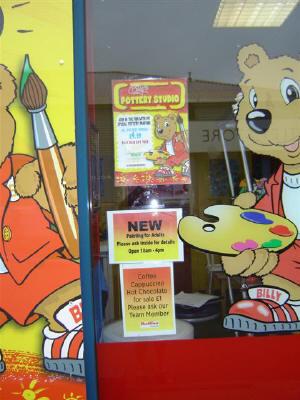 Talk about maximising profits – £1 to buy a Cappuccino.  Good deal?  Not in my book.  Make it in your chalet or have it free at breakfast.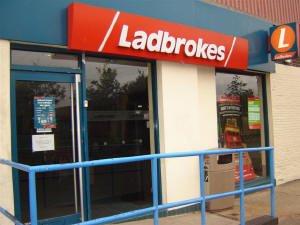 Wow – how's that for a family friendly package.  While Mom and the kids enjoy their not so cheap deal Dad can blow what's left of the spending money in the bookies.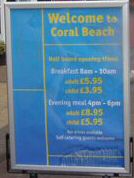 Self Catering?  Why not buy breakfast for £6 or £3 for kids.  Evening meals at £9 and £6 for kids.  2 adults and 3 children?  £57 per day.  So either max out on your credit card (you can always look a cheap transfer deal to another card maybe discount some of the high interest when you get home and can't afford to pay it off) or how's this for a good deal?  Dad can go down the bookies and Mom can spend all holiday cooking and washing up!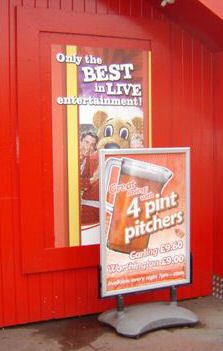 Well I suppose it depends what you're used to spending on booze?  Is £9.60 for a 4 pint pitcher a cheap deal ?  I rather have a nice bottle of wine but no deals there!
At £2 a try here's another good deal right where you enter the pavilion for breakfast and evening meal.
Cheap at £3?  I suppose so until you realise you haven't got to breakfast yet and the kids already have a long list of all these 'cheap' things they want to come back and do.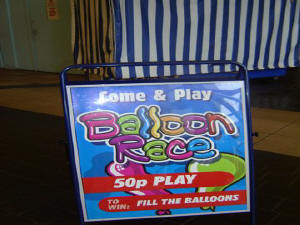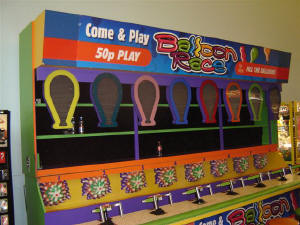 I'm not saying a word about whether it's cheap or a good deal but do you really think you'll get them off it after one go?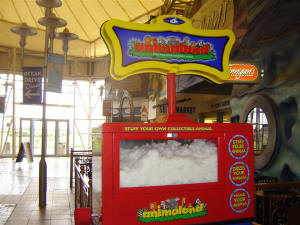 Stuff you own toy.  Novel  but why would you want to.  No idea how much this cost – never saw any takers.
Just keep buying and spending.
Nothing cheap to buy in here!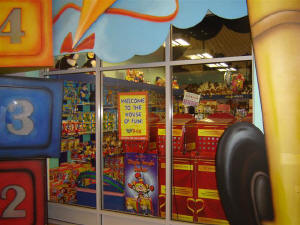 Welcome to the house of fun.  Bring your wallet and credit card with you.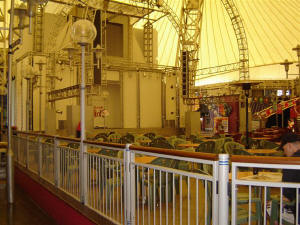 Gosh can we do something for free later this morning?  Yes meet Pingu or Bob the builder for free – UNLESS the kids want their pictures to take home then it's £5 each.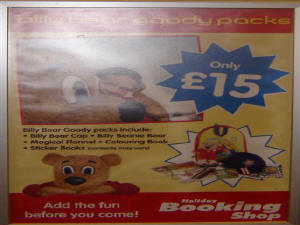 Billy Bear Goody Package £15.  You can get this sort of stuff by spending a couple of quid in the pound store much cheaper.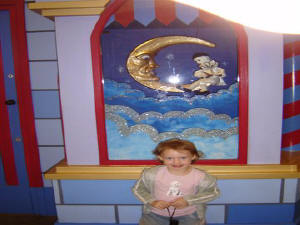 This was free but we could never get to see it as it was only on for a short while and always clashed with meal times.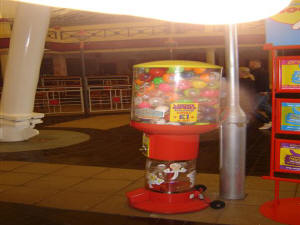 Only £1?  Now that's CHEAP!!!!