Hotel Serendib
The Hotel Serendib in Sri Lanka boasts a prime location on the light golden sands of Bentota Beach one of Sri Lanka's finest coastal retreats. This west coast wonder is set in a tropical haven of coconut palms and lush gardens which compliment the relaxed and friendly atmosphere. With Bentota Beach being next to the hotel you will be spoilt for choice for where to catch the Sri Lankan sun the pool is always a good option for unwinding relax under the towering palms and then cool off with a swim or a drink at the bar. Couples looking to escape the pressures of everyday life will appreciate the slow pace of life that the Serendib evokes.
Hotel Serendib – Hotel Reviews
Hotel Serendib (Bentota Sri Lanka) – Hotel Reviews – Hotel Reviews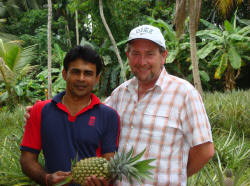 "We were booked in to the serendib for 16 days all inclusive we left after 2 days room was dirty food was crap to say the least . it said it was buffet for all meals ……. was not it was a set menu. the manager asked if we came back it would be a buffet for meals… "
---
"overall good- stayed in a superior room based on other reviews. Watch for changing prices for drinks if you pay cash- staff may already be including their tip as prices inconsistent.. Evening enterainemnt is dire when it exists. Caught the train to Galle- trip ok but watch for helpful individuals who offer advice – this led to us – foolishly-… "
---
"We went to serendib for new year and birthday dec08/jan09. We had a fantastic time remember its a 3rd world country and you will be wowed. The other residents in the hotel were good fun and a good calibre tut tuts outside good. train to gaul a good trip. I would strongly recomend upgrading rooms as the difference is tremendous.I… "
---
"We stayed in Serendib Hotel tew days for New year's. We didn't like it at all. It was expensive and cosnidereing the standrad of the room – overpriced! The food was expensive and notthing special. The only positive aspect was the locations- by the beach with a huge swimming pool and a huge garden full of palm trees. I wouldn't… "
---
"Had lovely hol the hotel was fine rooms bit old but what do we really expect from poor countries. i found staff friendly & would do anything 4 you. we went out most nights to try local restaurants 1 i liked was golden grill. Also hop on local train go & visit different places it's really cheap. when u go… "
---
"We stayed 3 nights at this hotel with about 20 extended family. The food overall was good and a lot of variety curries and western and plenty of fruit. With such a large group the staff was very efficient in sorting out minor issues. They were always helpful and friendly. Beach was wonderful and we were not bothered by the… "
---
"I stayed in Serendib a couple of days with my sisters in last September and enjoyed every moment of it. Service we received from very friendly staff was amazing. We went there on a bit rainy day and on the second day we realised they've even washed our cars! Food was simply great. They have a good swimming pool but… "
---
"having lived in this area and married to a sri-lankan i know all hotels ect in bentota we choose serendib because of value for money a 3 week all-inc package cost £800 per person we also extended our flight departure by one week at no extra cost the hotel it self is in a fantastic location gardens are very nice… "
---
"we got back 22nov.We I was not happy with rooms they show me so we upgrade to a delux room which cost more need cleaning.food was poor just warm.We had proplems with the air con We at to ask for the bedding to be change after 4 days not good at all.Wemeet some nice people one couple on there last day… "
---
"Like others who we met loved the country loved the people and the culture Both of the other hotels we stayed at on the tour before arriving in Bentota were 1st class especialy the Topaze in Candy (with chef Trevor Baines and his bread and butter puding)one of them in the same group my wife was ill seven out of the… "
---
For more details visit Hotel Serendib Reviews
More about Hotel Serendib Bentota Sri Lanka
Set in 8 acres of lush coconut palms and fragrant frangipani is Hotel Serendib just 1 1/4 hours (60 kms) south from Colombo and 3 hours (105 kms) from the BIA Airport. Lavishly spacious old-world Sri Lanka architecture evokes an aura of ease and relaxation. Set in this sunshine city of Bentota surrounded by the golden tropical beach is Hotel Serendib – an exotic resort by the sea.
Accommodation at Hotel Serendib Bentota:
Serendib Hotel offers 90 Air Conditioned guestrooms (Single/Double/Twin/Triple) with spacious balconies having sweeping sea views and modern facilities including room service attached bathrooms with hot and cold water CCTV and direct dial telephone.
Facilities at Serendib Hotel Bentota:
Room Service Hot and Cold Running Water Telephone with ISD/STD CCTV Hairdryer Balcony Radio Clock Safe Deposit Same Day Laundry Service Dry Cleaning International Direct Dialling Doctor On Call Fresh Water Swimming Pool Children's Pool Squash Water Polo Cycling Boating Deep Sea Fishing Baby Sitting Bar Coffee Shop.