Sharm El Sheikh Holidays     

Jems Restaurant Luxor Restaurant Reviews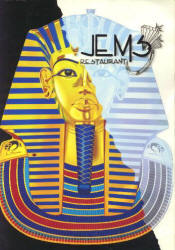 This restaurant certainly is one of Luxor's hidden gems.  The entrance
tucked away at the top of a flight of stairs may be the reason why Jem's is not
full to capacity every night.  We were welcomed by Albert the owner who
cooked us a special menu based on a selection of our favourite Egyptian dishes. 
Albert who regaled us with not only first class cuisine but many amusing stories
is a professional chef responsible for training many of the chef's in the large
Luxor hotels.  Do give this place a try, great food at an unbelievable
price – don't be put off by the entrance.
"Whilst on holiday in Luxor in september, my partner and I went to Jems restaurant for dinner and found it had a new owner.This individual has perfected the art of adding little extras to the bill, by suggesting extra dishes to compliment your order, which you think you are getting for nothing, but which find their way onto your bill…. more "
---
"We tried this restaurant after being a little wary as the entrance is not very appealing, however, once up the stairs we were more than happy. The owner Albert greeted us and when he saw we were having difficulty selecting from the extensive menu he asked whether we would like some help. He even offered to do us a special… more "
---
"Reasonable atmosphere, quite authentic, tasty food at low price (cheapest we ate in?). The down side – some other reviews mention 'frozen veg' not fresh – totaly true – but in tasty sauces. Worth a visit. We went to about 10 restaurants, this would be ranked around the middle. Was always quiet when we looked at it each day /… more "
---
"Jems' in Luxor, near the Sheraton hotel, is a little gem!! The food was excellent, service great and exceptionally good value for money! The owner is an Egyptian/Italian, who knows, and has lived in, Cornwall; he speaks English fluently. Don't be put off by having to enter the restaurant through an alley between shops – once up the stairs, you… more "
---
"2 – 16 Feb 2019 During our stay at the Sonesta St George we went to Snobs, the Puddleduck, Abu Aggar and Jems amongst others. Snobs and Puddleduck servered indifferent English/European – Abbu Aggar grilled Egyptian. Jems serverd both European and egyptiona food and trumped both Snobs and the Puddleduck. I agree with the previouis review – just let Albert… more "
---
"We were in Luxor end of November '08 and found this little 'gem' too late. Owned and run by Albert who is a teacher at the local catering college. Ask him to prepare you an authentic egyptian meal stipulating fish (recommeded) beef or chicken and your preferred level of spiciness. Three courses two beers came to LE160 and was superb…. more "
---
For more details visit Jems Restaurant Luxor Reviews