Looking for Holiday Reviews for Jetwing Seashells Hotel?
Jetwing Seashells Hotel Holiday Reviews
"This is a great place to stay you feel very integrated into the local culture. The nice thing about Sri Lanka compared to other long haul destinations is you don't feel confined to the resort like in the Carribean & Mexico. You can freely and safely walk outside the hotel and talk to the locals shop go to local bars/"
---
"Although there is not a great deal to do in Negombo which is a little tatty around the edges; this hotel offered a little slice of paradise. Situated on the beach it was perfect for a lazy beach holiday. Great service with staff bringing drinks out onto the beach beautiful sea to swim in and yards of sandy beach. Great"
---
"we arrived back from the seashells on the 25th of february after a fantastic two week stay.we went as a party of six and booked on full board with mercury direct as this worked out far cheaper than bb with first choice! we thought the holiday was a real bargain.The location was superb it was the only hotel on that"
---
"The hotel is clean functional and the staff very very helpful. (at times over helpful but that's the way they are!!) It is 2 star and doesn't pretend to be anything else. The breakfasts were buffet style and with a reasonable variety to suit most tastes. Rooms were adequate and well cleaned the bathroom and especially shower was good and"
---
"Stayed half board enjoyed curry banquets plus option of curry for breakfast. Rooms adequate with great view. I liked the hotel being part of a scheme to educate students/children re climate change and help reforestation (Jetwing Eternal Earth Project) We went on trip to Anaradapura with Randi (the nephew of Iris who sells sarongs on the beach) it was amazing and"
---
"We returned yesterday from a two week stay at the Seashells. We had a fabulous time couple of problems but overall what a fantastic place. When we arrived we couldnt actually believe that this hotel was all open plan and that from reception to beach was literally just a few steps !!! What a perfect location and view all rooms"
---
"Stayed at the Seashells at the end of a tour with Red Dot prior to flying to the Maldives. Main reason was that it is very convenient for the airport for an early flight. The Seashells is a 2 star tourist hotel which while offering good service and food is in need of a refurb. I would not want to"
---
"We all had a thoroughly good time here at this hotel. The rooms are basic but clean with fabulous sea views. The hotel is rated 2 star but I would rate it 3 star with 5 star food and service. We stayed 10 days and the set menu was different each day with 3 choices. There were a few buffets"
---
"We stayed at the Seashells again this year. Once again no real disappointments but maybe a few little gripes but not enough to complain. The set menu this year was not as extensive as 2007 nor as well cooked but they have opened the Sunset Bar which served fresh fish. We ate here twice and it was excellent. Still not"
---
"returned oct 8th from the seashells.Had an air conditioned room which was very clean and well looked after however you could say in need of a facelift. This hotel is a very good 2 star value for money clean with excellent well trained staff also well run by the management.Nothing was too much bother.Negombo is worth a look to make up your"
---
Negombo Hotels Hotels
SriLankan Air Taxi to Negombo Hotels
Sri Lanka is a land that is truly blessed by Nature. Its beauty unfolds in myriad ways and with so much to see, time is precious and getting to the Jetwing Seashells Hotel or nearby resorts can get a real pain. So why not take a Sri Lankan air taxi and arrive at your hotel unstressed? Internal flights in Sri Lanka operate from a dedicated domestic terminal at the Bandaranaike International Airport and fly to Colombo City (Waters Edge, Kotte), Bentota, Dickwella, Koggala, Kandy, Castlereagh, Sigiriya, Batticaloa and Trincomalee.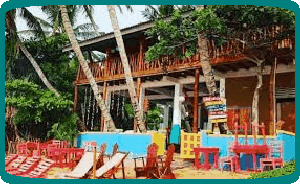 Popular Hotels This Week