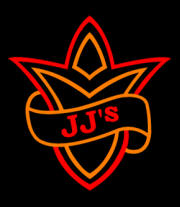 New since our visit last year is JJ's a lively bar and restaurant.  It is easily found in a little side street about
20 yards from the Hilton hotel. We not only enjoyed great food (with generous
portions) from the wide range of international/egyptian dishes but were treated
to the best  live entertainment since arriving in Luxor
(there's only so much you can take of the repetitive shows provided by some of
the hotels).  A good range of chilled beers and yummy cocktails.
Overall great music, good company and a extensive choice of food and drinks that
won't break the bank.  Don't leave it too late in the holiday to try this
one – I can guarantee you'll want to return. We certainly can't wait to come
back.
JJ's Bar and Restaurant Luxor
"Discovered this brilliant bar and restaurant on our holiday last week, by recommendation by our local taxi driver Hamdy Hasan, and we were not disappointed. Infact we loved the food and hospitality here so much we just kept going back. The english owners Axle and Julie made you feel so welcome and were able to accomodate our different diets through… more "
---
"JJs Bar is in Karnak just down the road from the Hilton Hotel. It is off in a sidestreet but a well illuminated sign on the main road makes it easy to find. The restaurant upstairs is tastefully decorated, be sure to look at the ceiling. Prices are very reasonable and the food is first class. Downstairs in the bar… more "
---
"I discovered this bar and restaurant during my week's holiday in Luxor last week. Recently opened, the downstairs bar is well-designed and well-stocked, with an informal atmosphere – the English owners are very friendly. The restaurant restaurant is airy and modern, and the food was very good. Definitely worth a quick taxi into Karnak if you're staying in Luxor for… more "
---
"Bonne ambiance, propreté, sourire, service très "British", menus variés, prix "très raisonnables" . more "
---
For more details visit JJ's Bar and Restaurant Luxor Reviews