Looking for Holiday Reviews for Queens Hotel?
"This hotel was once one of the premier places to stay in Kandy – probably 100 years ago! Nevertheless it retains a lot of its colonial quirks and character Paid $32 and got a large A/C room with satellite TV and breakfast and pool – so one has to have realistic expectations for the price paid.. The rooms are big"
---
"great atmosphere. you can feel the history walking down the long hallways. i wondered what kind of crazy things happened there over the 160+ years. look at multiple rooms since some are way better then others. of the 3 rooms we stayed in 225 was our favorite. $50 a night with a/c. totally worth it. more "
---
"The Queen's is a spacious hotel with lots of colonial character. We found it to be good value particularly in respect of its location in the heart of what Kandy has to offer. Food and drink options are a bit limited so we went elsewhere. more "
---
"I was in 2 minds as to stay here or not after reading the reviews so only booked in for 2 nights but I loved it and ended up staying a week. The hotel has heaps of character and is in the perfect location in the centre of town. The room was spotless and cleaned daily the staff went out"
---
"i stayed there only one night but the rooms look really bad (economy) but witch cost around $40 per night i was shocked to find cockroach's in the room the bath was not working the shower was hang by a thread. don't think you can call this a 3 Star Hotel. more "
---
"I really wish I could recommend this place but it is just too shambolic. For $45 it should be a steal but there is a reason the rates are cheap. Walked in to the lobby and thought wow this place is fab a little shabby but all the better for the colonial charm without the western hotel chain spin. Checked"
---
"We stayed in the Queens hotel the first night of our stay in Sri Lanka as part of a customised tour. Big spacious room with big characterful colonial furniture the hotel is quite grand with big staircases and high ceilings. Our room was clean however most of them are facing the road (which you should definitely try and avoid if"
---
"This hotel is very old. It has a strong colonial charm (cage elevator wood panels etc) but almost everything is in a state of disrepair. A part of the door-post in my room fell off the moment I touched it. When we pluged in two laptops in our room the outside fuse blew off and we had to call maitenance"
---
"Queen's Hotel is an elderly and rather frayed establishment with a very convenient location reasonable rates and a friendly and well-intentioned staff. It is located in the heart of Kandy just across the road from the Temple of the Tooth (well worth a visit) and the lake. The hotel retains some of the aura of the colonial era (which is"
---
"We booked a double room with a balcony that has a view of Perahera and paid a deposit Rs.10 000 on May 10th 2007 and final payment of Rs.10 000 on July 10th 2007. The room with balcony with a view of Perahera was confirmed for August 25th 2007. We arrived on the 25th and were assigned a room that we thought"
---
Kandy Hotels Hotels
SriLankan Air Taxi to Kandy Hotels
Sri Lanka is a land that is truly blessed by Nature. Its beauty unfolds in myriad ways and with so much to see, time is precious and getting to the Queens Hotel or nearby resorts can get a real pain. So why not take a Sri Lankan air taxi and arrive at your hotel unstressed? Internal flights in Sri Lanka operate from a dedicated domestic terminal at the Bandaranaike International Airport and fly to Colombo City (Waters Edge, Kotte), Bentota, Dickwella, Koggala, Kandy, Castlereagh, Sigiriya, Batticaloa and Trincomalee.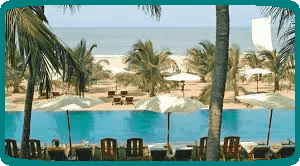 Popular Hotels This Week