Looking for Holiday Reviews for Aditya Hotel?
"We were just looking for somewhere comfortable in or around the Hikkaduwa area as I had come down with a bug and just wanted clean and air-conditioned. We couldn't find anywhere (even the 'best' in Hikkaduwa isn't up to much) until the cab driver suggested Aditya. From the minute we walked it we were very pleased. Great staff great setting"
---
"A sri lankan gem. We had a sea view room -spacious and well laid out.The balcony was amazing with plunge pool and day bed . Excellent food-very personable chef too.Presentation of food and the service was excellent.A fabulous place to chill out. more "
---
"My partner and i decided to get married in Sri Lanka and chose the Aditya as the place to have our wedding…all i can say is that is was the Perfect choice. This hotel delivered on every level! The beach is rustic private and gorgeous! (the sea is quite wavy but warm and fun if you are a good swimmer!) The"
---
"Spacious beyond belief beautifully decorated food to die for but above all the level of service and the friendliness and sense of fun of the staff made this a holiday of a lifetime. Nothing was too much trouble. This is indeed a very special hotel and the glorious website actually doesn't do it justice! We're fussy creatures and every aspect"
---
"The best of everything you wish for in one place!!! And also one where you dont wish for has been thoughtfully kept out! One place you can check in without having to worry or think twice about! Loved the plunge pool the fantastic room (as big as any small house) the view from the room the sun deck the great"
---
"Absolute and total perfection! Without doubt one of the most amazing hotels I have ever stayed in. If you could have a perfect hotel to spend your honeymoon in this would it. Each room is a work of art and the hotel exudes comfort harmony romance and serenity. If you ever travel to Sri Lanka you have to make sure"
---
"I wanted a small hotel near Galle as part of a holiday to celebrate our 40th wedding anniversary. Aditya seemed to offer just what we wanted and it fulfilled our expectations. The rooms are lovely and the location is perfect right on a quiet stretch of beach but only 6 km from Galle. Excellent food with plenty of choice pretty"
---
"Quite simply the best place we have ever stayed. It is not possible for any review to over do the compliments that this hotel and it's staff deserve. The food is out of this world – I don't know where they got their chef from but they made a very good 'transfer' to some other hotel's detriment. We usually like"
---
"My boyfriend and I have just returned from a 2 week holiday in Sri Lanka and spent our final 3 days at Aditya. I'm really not going to say much as other reviews have pretty much covered every aspect of this amazing hotel – so to put down the highlights:- Amazing huge beautifully decorated bedrooms with plunge pools and private"
---
"I just got back from my much awaited honeymoon at Aditya. Despite my high expectations from reading its reviews on TA this boutique resort outshone itself in every single area. First off I had casually mentioned in an email to the hotel that I was staying at the hotel for my honeymoon. Sure enough once we checked into our room "
---
Hikkaduwa Hotels Hotels
SriLankan Air Taxi to Hikkaduwa Hotels
Sri Lanka is a land that is truly blessed by Nature. Its beauty unfolds in myriad ways and with so much to see, time is precious and getting to the Aditya Hotel or nearby resorts can get a real pain. So why not take a Sri Lankan air taxi and arrive at your hotel unstressed? Internal flights in Sri Lanka operate from a dedicated domestic terminal at the Bandaranaike International Airport and fly to Colombo City (Waters Edge, Kotte), Bentota, Dickwella, Koggala, Kandy, Castlereagh, Sigiriya, Batticaloa and Trincomalee.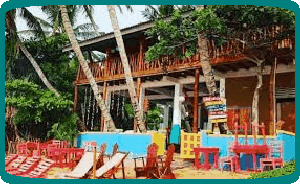 Popular Hotels This Week