UK Diving Clubs
Featured Diving Club – Ashby Castle Sub Aqua Club
A membership of about 20 people enjoy continued safe diver training as well as numerous diving expeditions and the social events.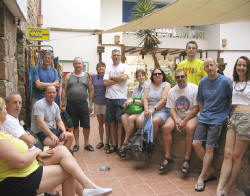 Several of Ashby Castle Sub Aqua Club members on 2018 Red Sea Trip. Visit their Diving Gallery for more pictures.
If you don't have basic skills you might like to consider a residential swimming course in the UK first.
UK Diving
One of the things that worried me most was the tendency of most holiday dive centres to tout

for business with a 5 minute swim in the resort pool and follow up bookings with VERY short pool sessions and then straight into the sea.  WOW – if that isn't enough to frighten of any timid divers I don't know what is.  and that's a great shame because just like learning to swim we all need to go at our own pace.
Would you really want to miss something like this Hawksbill Turtle (courtesy of Karen Curtis) just because your first experience was a bad one?  OK so I'm not saying there aren't plenty of good centres out there – just that it makes more sense to see who you're dealing with and know their safety record before you book.
Ashby de la Zouch is convenient for Derbyshire Leicestershire Nottinghamshire and Staffordshire.  Why not have a Try Dive with them.  You'll have your own instructor for an hour with all air and dive equipment on hand and at £12.50 it's a fantastic way to make sure you have a great first diving experience experience.
To find out more about this small friendly family oriented club
Tel:  Ashby Castle Sub Aqua Club – Secretary Matt Bailey 01530 262455
Main ACSAC Courses:
Ocean Diver is the basic entry level qualification with BSAC. This course provides you with the essential knowledge and skills needed to prepare for open water diving. Learning to dive is all about learning to use your equipment properly and safely. The Ocean Diver training course concentrates on preparing you for this in the safety of a swimming pool or sheltered water and then introducing you to open water in a controlled and safe manner. This also gives you the opportunity to practice safety skills in the company of a qualified instructor or experienced diver. It give you the skills and confidence to dive up to a maximum 20 metres.
Sports Diver builds a sound foundation of open water diving skills and experience through a series of structured practical lessons. Once you have gained this open water experience with a qualified instructor you are ready to take part in dives with other Sports Divers or those of higher grades to a maximum depth of 35 metres.
Referrals: Cross-overs possible from other diving organisations e.g. PADI Advanced Open Water Diver is equivalent to BSAC Ocean Diver and PADI Rescue Diver is equivalent to Sports Diver.
Other BSAC Courses include:
Dive Leader Advanced Diver First Class Diver
---
UK Diving Clubs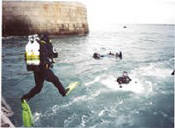 Ashby Castle Sub Aqua Club (ACSAC) was formed in 1997 by Pete & Pauline Billyeald and andy & Lesley Burton to provide high quality Scuba Diver training following the rules laid down by BSAC the largest sub aqua club in the world.
.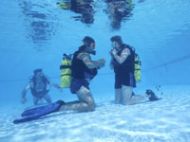 Nottingham's Octagon Divers  offer diver training at various levels from beginner to advanced. We usually conduct diver training over a number of weeks at weekly training sessions. Training is conducted by qualified instructors and all necessary equipment is supplied.
.
Whether you are a complete beginner or are already partly or fully trained we believe that North Staffs Sub Aqua Club has plenty to offer you. We also know that without a steady inflow of new members the club would become stale so you already have something to offer us.
.
The Derby British Sub Aqua Club was established in 1959 and is a friendly sociable club. Diving is an activity where you rely upon your buddy. Derby BSAC is a great place to learn as we have a great group of people who can really be trusted and depended upon.
.
The Cave Diving Group was formed in 1946 by the late Graham Balcombe. Its continuous existence to the present day makes it the oldest surviving diving club in the world.