Looking for Holiday Reviews for Galway Forest Lodge Hotel?
Galway Forest Lodge Hotel Holiday Reviews
"Whatever you do take the advice of the guidebook and spend a bit of extra money on your hotel in Nuwera Eliya as if you are stuck in a pedestrian hotel like Galway you will get very bored if it rains. Galway is gloomy and dated there is nothing to do inside the hotel (not even a garden to sit"
---
"This is a good choice if you are staying for a night or two in the highlands of Sri Lanka but I would not recommend it for a longer stay. Try and specify a room at the from of the hotel as the view which overlooks some market gardens is quite nice and if you get a room facing the"
---
"The rooms are large and clean but those facing into the centre of the hotel are rather dark. There are no facilities (eg pool) except for a snooker table in the bar so this hotel is best if you are staying only a night or two. The food was good and the set menu was a welcome change from the"
---
"I made a brief overnight stay at this hotel some years ago while visiting Worlds End. We checked in after dusk and checked out before sunrise. The rooms were comfortable and the food was okay. In Oct 2006 when I was staying at the Grand I decided to see Galway in daylight! It looked like a hospital/ hostel from outside…. "
---
"Hotel was of a good standard a weird smell in the room though staff were very friendly and the food was very good more "
---
"Le lenzuala erano bucate in bagno c'era della ruggine l'intonaco in alcuni punti era venuto via la tovaglia su cui"
---
"questo albergo è un tre stelle:è un albergo semplice ma comunque pulito è diverso dagli alberghi dello sri lanka ma"
---
Nuwara Eliya Hotels Hotels
SriLankan Air Taxi to Nuwara Eliya Hotels
Sri Lanka is a land that is truly blessed by Nature. Its beauty unfolds in myriad ways and with so much to see, time is precious and getting to the Galway Forest Lodge Hotel or nearby resorts can get a real pain. So why not take a Sri Lankan air taxi and arrive at your hotel unstressed? Internal flights in Sri Lanka operate from a dedicated domestic terminal at the Bandaranaike International Airport and fly to Colombo City (Waters Edge, Kotte), Bentota, Dickwella, Koggala, Kandy, Castlereagh, Sigiriya, Batticaloa and Trincomalee.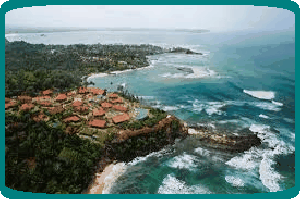 Popular Hotels This Week