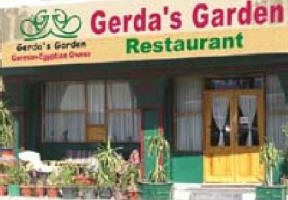 We found this delightful little restaurant on the last day of our holiday. 
Gerda's Garden what an absolute gem of a place, with a great homely feel not
only can you enjoy great food but everything from internet access, book exchange
to a wealth of knowledge generously shared with all guests. We received such a
warm welcome from the owners Gerda and Wael by the end of the evening it was
like leaving old friends. What a shame we didn't find Gerda's Garden and this
lovely couple earlier.  I can't wait until we return later in the year.
"We have just returned from Karnak (Sofitel) and what was our fourth holiday in Karnak. We love to eat out and ate here four nights from seven and a few lunch times. Absolutely the best place we ate and that includes Maxims and seven days seven ways and of course the horrendous Genesis (what have they done). The staff here… more "
---
"During my stay in Luxor I tried several restaurants, but Gerda's Garden was the best! The food (original German, original Egyptian and international), the atmosphere, the hospitality was great. Gerda and Wael did everything to make us feel happy and welcome. I also could change my old book into another one, because they have a nice little library with English… more "
---
"Sunday 24/08/09 My daughter and I with a freind whose father had been and recomended Girdas Garden. How refreshing and what a treet we had. The food was great with the BEST WINE in Luxor. We relaxed in a realy freindly atmosphere. There were books, magazines, games, TV, free internet a chill out area. My only regret is that we… more "
---
"I have travelled extensively all over the Egypt and Gerda's Garden would have to be my favourite place to eat and drink. We stumbled upon this wonderful little restaurant the evening we arrived in Luxor. We were looking for somewhere quiet and peaceful and wanted to eat local food. We soon became addicts. We regularly ate from both the German… more "
---
"We ate here on only one occasion,what a mistake! We were a party of 14 it took about 2 hrs to get our food,only another table of 4 was eating there. The food when it arrived was badly presented & tasted of nothing but huge amounts of salt all 14 dishes were unedible some of the dishes were floating in… more "
---
"Several years we come to Luxor (Karnak) and have visite already a lot of restaurants in the area. It is always a pleasure to come in Gerda's Garden, they are so nice that you will stay the whole evening! Their food is so special that we especially take 'room and breakfast' in our hotel, that give us the chance to… more "
---
"Waited two hours for our meal with the owners repeatedly promising that it wouldn't be much longer. When it arrived, there was hardly any roon for the food with the amount of salt they used. My wife was ill the next couple of days as a result. Why this restaurant is so high is beyond belief. Save your money and… more "
---
"We had the pleasure of dining at Gerda's Garden while staying at the nearby Hilton in July. From the moment we stepped inside the restaurant, we knew this place was quite special. The restaurant itself is spotlessly clean and very cosy (a pleasant surprise after stepping in from the dusty streets of Karnak). The menu features both Egyptian and German… more "
---
"Several times I went there, there is always a new special service excellent food, family atmosphere Recommend this place more "
---
"Gerda,s is like family to everyone , their is always a great atmosphere in this restaurant. Gerda and her husband are willing to help you if you got any problems, they lent us a old moblie phone so we can text home , and gave it back the day we was leaving and just top the phone back up ,… more "
---
For more details visit Gerda's Garden Luxor Reviews