Looking for Holiday Reviews for Heritance Ahungalla Hotel?
Heritance Ahungalla Hotel Holiday Reviews
"I stayed at heritance on 4th June with my spouse for our honeymoon. i knew its going to be a nice stay and it was indeed nicer than i expected. Location is fantastic. View is heavenly. Staff is soo nice and friendly. SARA was exceptional—Hi Sara!!! Food is good and the room was clean and spaceious. my room was room"
---
"Just back from amaizing and relaxing trip from Sri Lanka. (4-12.Jun) Positive: exellent service outstanding food and choice great value clean frendly staff great facilties (gym two outdoor pools jacuzi game rooms libary internet two bars night club two shops bussines center SPA). If you travel by BB package its great to dining in restorans(cheap around £10) drinks in"
---
"Ok so after arriving from a long 11/12 Hour flight from UK the 3 hour transfer to the hotel was not an experience I was looking forward to the traffic was very bad and seemed to take a life time. We had our own private car transfer and I would advise anyone staying to do the same to make the"
---
"We have lived in Sri Lanka for a while; hence choosing it for a holiday seemed so perfect. We had only one objective on this holiday- to soak in as much of Sri Lanka as we could – in terms of Sun sand and Sambol (a fiery chutney made in Sri Lanka) since we are big Sri Lankan foodies. We"
---
"Our stay at the Heritance was memorable. This is a fantastically designed hotel by Sri Lanka's legendary architect Geoffery Bawa. In keeping with his style the hotel is open to the elements – there is an uninterrupted vista of the sea from the vast uncluttered lobby with sea breeze blowing in at all times… when the breeze is a little"
---
"Having read some fantastic reviews of this hotel we arrived with high expectations. Twice prior to arrival we had reqested a room with a sea view and a double bed. On arrival however we were asked if we wanted to upgrade before even seeing the room therefore it came as no suprise that we had neither a sea view nor"
---
"I'm easily intimidated by 'posh' places but despite this being the classiest hotel I've seen- decor and architecture superb- it was relaxed and friendly. Staff were quietly efficient and helpful but equally happy to chat or join in ping-pong etc. Pools huge clean stunning.Food wonderful-breakfast was incredible- included local dishes as well as everything the fussiest eater could want. Award"
---
"We visited Heritence Ahungalle for 2 nights in mid-April 2009. This was our second trip to the property having visited 5 years ago on our last trip to SL. Booked directly through the hotel website after comparing other similar properties such as Taj Exotica Bentota The Fortress Galle Fort Hotel and Eden Resort. Chose the Heritence given we had a"
---
"We stayed here for a week before moving onto the Maldives for our honeymoon. The journey to the hotel was long but the driver was fine and pointed out sights when we passed them. Pulling into the hotel we were certainly impressed the reception is spacious the infinity pool is certainly a show stopper. The staff were couterous and knew"
---
"Beautifully designed hotel. An open design so that there is maximum light and air. The pools are lovely and my room had a beautiful sea view. It is however extremely quiet and quite far from colombo. There is also unfortunately no spa. The food and service were also good. more "
---
Ahungalla Hotels Hotels
SriLankan Air Taxi to Ahungalla Hotels
Sri Lanka is a land that is truly blessed by Nature. Its beauty unfolds in myriad ways and with so much to see, time is precious and getting to the Heritance Ahungalla Hotel or nearby resorts can get a real pain. So why not take a Sri Lankan air taxi and arrive at your hotel unstressed? Internal flights in Sri Lanka operate from a dedicated domestic terminal at the Bandaranaike International Airport and fly to Colombo City (Waters Edge, Kotte), Bentota, Dickwella, Koggala, Kandy, Castlereagh, Sigiriya, Batticaloa and Trincomalee.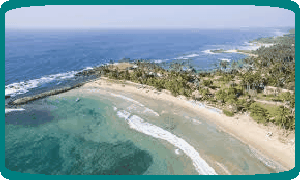 Popular Hotels This Week