Looking for Holiday Reviews for Horathapola Coconut Estate Hotel?
Horathapola Coconut Estate Hotel Holiday Reviews
"Kate at Fleewinter highly recommended this place as a good place to spend our first evening in Sri Lanka en route to our first proper stop. Boy was she right! The house is spectacular and our room was absolutely wonderful. We were the only people there at the time so we had the entire place to ourselves. Pia (the owner)"
---
"An hour or so's drive from Columbo airport this place is a working coconut estate albeit at a subdued level. It a large colonial house that has four letting rooms and caters for the mid to upper market tourist. It is a delightfully tranquil place and an excellent way to start a holiday in Sri Lanka being quiet and peaceful…. "
---
"What a fantastic start to our stay in Sri Lanka! We arrived pretty dazed after a long journey only to feel relaxed almost immediately. We were made to feel very welcome and nothing was too much trouble. We were the only guests there which was great as we had the pool and Joseph (butler) to ourselves. The food was probably"
---
"We booked Horathapola through Experience Sri Lanka and it was the perfect place to start our trip. When we arrived at the airport we were picked up by someone who didnt speak English which didnt bode well but when we arrived at the estate Pia welcomed us and it really felt like we had arrived at an old collonial home…. "
---
"My husband and I spent 2 nights here in December at the start of our 16 day holiday.We booked via Fleewinter . The room was huge and the views amazing .Everthing about the place was done with such care and love by Pia and her husband(and thier daughter -the little horror!). Little soaps in the bathroom each hand written to"
---
"Based on the previously posted reviews of Horathapola we were greatly looking forward to staying there on our recent trip tio Sri Lanka. Horathapola was adequate at best but certainly not up to the caliber of the other hotels that we stayed at in Sri Lanka. I found Pia (the owner) to be quite cold and the service indifferent. The"
---
"I do so agree with the previous reviews but wanted to add my voice. After the long flight from the UK this was the perfect place to begin our Sri Lankan adventure… we swam in their lovely pool in the warm rain… and found towels had appeared as if by magic when we stepped out. Food and service are excellent…. "
---
"This is a unique place – far more interesting (and relaxing) than staying in Colombo (it's only an hour from the airport so a perfect place to begin or end your holiday). In the middle of a coconut plantation the 1920s building is gorgeous and full of beautiful antiques the rooms are huge and the pool is the best we"
---
"I can't add much to the first review of this beautiful small hotel. Except there are now 4 rooms! Everything about the place is lovely. The service is caring homely and professional. The food just fantastic. We honestly felt like we staying in our own villa. I can't praise the place highly enough and if you read the guest book"
---
"The drive from Colombo Airport gives a real insight on how to drive or should I say survive driving in Sri Lanka. The roads are very crowded and it is a case of the biggest vehicle with the loudest horn who survives. Arriving at Horathapola Estate however makes the ordeal well worthwhile. The estate is a working coconut plantation and"
---
Negombo Hotels Hotels
SriLankan Air Taxi to Negombo Hotels
Sri Lanka is a land that is truly blessed by Nature. Its beauty unfolds in myriad ways and with so much to see, time is precious and getting to the Horathapola Coconut Estate Hotel or nearby resorts can get a real pain. So why not take a Sri Lankan air taxi and arrive at your hotel unstressed? Internal flights in Sri Lanka operate from a dedicated domestic terminal at the Bandaranaike International Airport and fly to Colombo City (Waters Edge, Kotte), Bentota, Dickwella, Koggala, Kandy, Castlereagh, Sigiriya, Batticaloa and Trincomalee.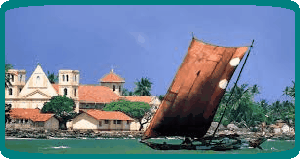 Popular Hotels This Week