Looking for Holiday Reviews for Hotel Goldi Sands?
Hotel Goldi Sands Holiday Reviews
"Staff made you very welcome and could not do enough for you. Would denfinately go back. Trips to Candi and River trips very informative and we organised and we made lots of new friends. A very relaxing fantastic holiday. more "
---
"I read quite a few reviews of this hotel before I travelled and arrived with an open mind. Lets get one or two things straight to start with- this is Sri Lanka so you will get Sri Lankan food. This is not a 5* hotel so the accommodation is not 5*. The food though is equally as good as some"
---
"We stayed at Goldi Sands from 13th April to 26th April this year and had a wonerful time. Upon arriving i thought the hotel looked a bit tired. But soon came to the conclusion it must have been me that was tired. The food choices were varied and delicious with different themed menus every day. The pool is brand new"
---
"For the all inclusive (£600 each) fortnight it was great. Nice pool friendly helpful staff internet access etc. I think visitors who sign up to visit should be prepared to be flexible and accept local values are different. You only need to walk outside the hotel and look at some of the nearby homes and shops to realise the contrast…. "
---
"We stayed at Goldi Sands 7 -21 April 2009. and found it to be a lovely hotel to stay at all the staff and Managers were very friendly nothing was too much trouble if you had a problem it was sorted out immediately. The location was good I was a bit dissapointed that the sea was too rough to swim in"
---
"Overall a 'very good' hotel but a problem with my computer or the site (not sure which) means I can't seem to using the ratings unless I want to rate everything excellent. Staff were always very friendly. Rooms variable – some with fridge others not; some with dodgy old system that they seem to think passes as 'air conditioning' but"
---
"I stayed at the Goldi Sands from 12 April until the 28th with my wife and extended family. I must say that we were really weell taken care of. We had elderly people in our party and also various dietary needs including a vegan and the hotel really went out of their way to make sure everyone was catered for"
---
"Stayed here all inclusive for 2 weeks.Thoroughly enjoyed the holiday would certainly return.Word of warning the rooms are a little dated but are cleaned daily.Staff are brilliant food excellent.Right on the beach but not too bothered by the hawkers.Swimming pool was very good and there was plenty of sunbeds to go round.All in all excellent value for money.Dont expect too much in the way"
---
"We were meeted at the airport by the guide and he broughs us to this hotel so we didn't know where we were going. The hotel is 2-3* at it's best. Location – not far from the airport (15-20 min) right on the large beach. Beach – large strip of the beach dark yellow brown sand. The sea has a"
---
"The rooms are basic but cleaned daily. Towels changed daily at first they were a thin dull white/grey in colour but on request we were then supplied with sets of blue fluffy towels for the rest of our stay. The selection of food for breakfast lunch and dinner plus the bar snacks were not as vast as our previous all"
---
Negombo Hotels Hotels
SriLankan Air Taxi to Negombo Hotels
Sri Lanka is a land that is truly blessed by Nature. Its beauty unfolds in myriad ways and with so much to see, time is precious and getting to the Hotel Goldi Sands or nearby resorts can get a real pain. So why not take a Sri Lankan air taxi and arrive at your hotel unstressed? Internal flights in Sri Lanka operate from a dedicated domestic terminal at the Bandaranaike International Airport and fly to Colombo City (Waters Edge, Kotte), Bentota, Dickwella, Koggala, Kandy, Castlereagh, Sigiriya, Batticaloa and Trincomalee.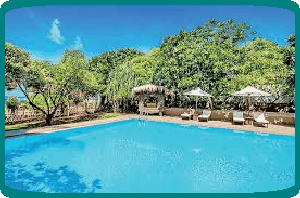 Popular Hotels This Week