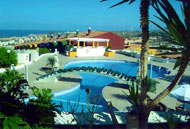 Read more Villas Canarias Xanadu Reviews Below
 Visit  more review sites for Villas Canarias Xanadu.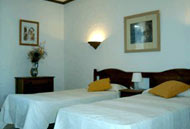 2 Reviews about Villas Canarias Xanadu
Submitted By: Mrs K J Dunn
Overall Rating: 3/10
Comments: Villas Canarias (Xanadu) shortly to be re-named Villas Cuccarachas was a very "different" family holiday for us in February this year.
On arrival we were fairly pleased with the accommodation which was clean and bright and does cater for most of your needs. However we soon found that the lockable safe had been broken into so we had no where to store our valuables. We must have struck lucky with our sun terrace as ours was in the sun for most of the day and we were on the ground floor.
Then as we had booked a one bedroom apartment for my 7 month old son, 7 year old daughter and my husband and I, thinking that we could share a sofa bed in the living area leaving the bedroom for my daughter and the cot for my son. No chance! The very badly described sofa bed was simply a wooden sofa that did not fold out or do anything useful with cushions in short supply. We did manage to make a bed with the cushions some how, but then the visitors came!
Cockroaches everywhere and it got so bad that after the first night we had to push the 2 single beds together in the bedroom and sleep in there with our daughter. Cosy eh?
The staff were not helpful or sympathetic at all but grudgingly supplied us with a kettle and extra bedding on request. and I am not entirely sure that the pool would conform to health and safety standards but it does look nice.
Costa Adeje itself is a lovely area with lots to see and do and we found ourselves spending as much time out and about as possible that would keep us away from the apartment. There is a very steep walk to the apartment from the beach but we welcomed this as a way of burning off all the extra calories from the lovely restaurants, and would not complain about this at all.
I would definitely not recommend Villas Canarias to anyone visiting Costa Adeje but I am told that there are many other lovely hotels in the area, oh well you live and learn.
Opinion submitted in Aug 2018 by : Sheila Semple
Resort Rating: Poor
My/Our Holiday Opinion: 
Otherwise known as Xanadu apartments. Supposed to be refusbished. Disgusting…staff extremely unfriendly…cochroaches…sheets not clean…apartments not clean. Just about the worst place to go for a holiday. Supposed to be family friendly……you really dont want to go there full of drunken yobs. My worst holiday ever.
At the top of "Cardiac Hill" cant say more than that….glad to be back home.
More Villas Canarias Xanadu Reviews:
If these reviews of the Villas Canarias Xanadu have changed your mind about booking this resort for your holiday, you make like to think about alternatives by visiting our Mexico page.        
Holiday Resort Reviews