Looking for Holiday Reviews for Palm Paradise Cabanas Hotel?
Palm Paradise Cabanas Hotel Holiday Reviews
"We spent 11 days in this beautiful place. All we can say is Palm Paradise is the best option to relax in the area. Walking along the coast near Tangalla and Goyambokka we found no better place to stay. Peaceful and romantic cabana hidden in the palm groove two beautiful beaches with palms hanging over the golden sand friendly staff"
---
"to this wonderful and natural resort at one of the nicest beaches of Sri Lanka since 1986. It´s the ideal place to get away from stress and sorrows of Western life and relax without shoes under palm trees. Thanks to the owners Karin + Manfred and their whole staff for keeping this place so beautiful and well functioning since more"
---
"..but very nice and calm place for a romantic holiday. Completely opposit to five stars concrete hotels: no crowds but a beach only for you. Sea turtles spotted even during a day. Coconuts opened directly on the beach under palm trees. Wooden huts well distant one by one to not disturb anyone. Dinner curry eaten by hand in restaurant -"
---
"A beautiful place to be. Good accommodation nice beach en above all very helpfull en friendly personal! more "
---
"OK so people have their own ideas of paradise; deserted white sandy beaches and bright blue oceans. But how many people truely get to experience it without it being prohibitvely expensive and not only that but are able to have the entire beach to themselves? Well this is it. If you're going to go to Sri Lanka for this one"
---
"The accomodation is beautiful clean cool and insect free even when it is hot.The staff are a delight .We could have happily stayed much longer.My son and I are painters and it would be a great place to work if we could have stayed longer.It was a revelation to me the surroundings are beautiful and great swimming above all truly unspoilt"
---
"From the moment you arrive you are bombarded with rules…posted on walls trees your room and even handed to you at the front desk. Don't do this or that etc. Beach is tiny and has two shacks on it that are owned by others. Drunken men drinking whiskey shout at you as soon as you step foot through the gate"
---
"…in the beginning was the paradise… … well what should I say paradise still exists!! we stayed at the PPC for ten days and till today we wish we could have stayed longer. it just was heaven on earth – wonderful view a nice and clean cabana a lonely beach (95% of the time) great waves cute dogs very kind"
---
"We have stayed here 4 times now and are never disapointed the staff scenery beach cabanas food have always been 100%. It is very basic but after a few days you realise you dont need anything else due to the relaxing atmosphere and beautiful surroundings. We have travelled to many countries over the years and this is the only place"
---
"We were a little sceptical of Palm Paradise as it was difficult to get a feel for the property from the website so we only booked half our holiday there planning to go to Unawatuna for the other half. But the minute we arrived and were taken to our lovely little bungalow just 10 metres from the beach we were"
---
Tangalle Hotels Hotels
SriLankan Air Taxi to Tangalle Hotels
Sri Lanka is a land that is truly blessed by Nature. Its beauty unfolds in myriad ways and with so much to see, time is precious and getting to the Palm Paradise Cabanas Hotel or nearby resorts can get a real pain. So why not take a Sri Lankan air taxi and arrive at your hotel unstressed? Internal flights in Sri Lanka operate from a dedicated domestic terminal at the Bandaranaike International Airport and fly to Colombo City (Waters Edge, Kotte), Bentota, Dickwella, Koggala, Kandy, Castlereagh, Sigiriya, Batticaloa and Trincomalee.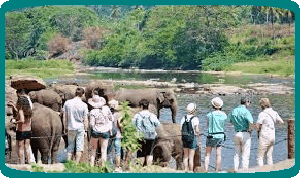 Popular Hotels This Week