Looking for Holiday Reviews for Peacock Hotel?
"I wil not recoment Peacock to annyone. Its location on the beach is beautiful. But extremely noisy and the open air club next to it keeps the music going until morningtime. Do not expect to sleep at night. Its not clean either. My bathroom and bedlinnen where probably not washed before arrival. more "
---
"We stayed 4 nights there in March 2009. For a nice clean double room with A/C they wanted 2900r. Really we paid 2600r a night. We think the hotel has the best location in Unawatuna. It was e[tremely pleasant to go to sleep hearing the ocean. All the room including the bathroom was newly redecorated exept the ceiling. We did"
---
"I stayed at the Peacock simply because it was where the taxi dropped me and it was the first place listed as 'budget' in the Lonely Planet Guide. The room was very basic but the sea view and beach location was great. However the room seemed expensive given that officially May is out of season. (There was hardly any tourists"
---
"The room and location were great – right on the beach – the room was located on the second floor and was the largest and nicest of all the rooms on offer – the other rooms appeared quite small and not that nice. The breakfast was the worst that we had in the whole time we were in Sri Lanka"
---
"we had considered staying at the Peacock sooooooooooo glad we didn't. We stopped off on our first day in Unawatuna (13 jan 08) for a drink and to check the menu….we sat at a beach table absolutley gorg views over the bay. The problem came when a storm came and we had to move inside….yuck you have never seen so"
---
"Booked and paid for a top floor air conditioned sea view room at this hotel through golanka.com 6 months before arrival. Upon arrival at the hotel (during the Sri Lanka v England Test Match) the owners tried to put us in a disgusting hovel of a room with only a ceiling fan & mosquito blood stained net around the bed with"
---
Unawatuna Hotels Hotels
SriLankan Air Taxi to Unawatuna Hotels
Sri Lanka is a land that is truly blessed by Nature. Its beauty unfolds in myriad ways and with so much to see, time is precious and getting to the Peacock Hotel or nearby resorts can get a real pain. So why not take a Sri Lankan air taxi and arrive at your hotel unstressed? Internal flights in Sri Lanka operate from a dedicated domestic terminal at the Bandaranaike International Airport and fly to Colombo City (Waters Edge, Kotte), Bentota, Dickwella, Koggala, Kandy, Castlereagh, Sigiriya, Batticaloa and Trincomalee.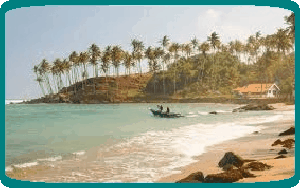 Popular Hotels This Week