Wondering about where to go on vacation? We are pleased to announce that Worldwide Holiday Packages will soon be posting more articles on where to go on vacation, holiday events in Hurghada and in the whole south Sinai. Local News, Special offers from hotels such as Panorama Bungalows Resort Hurghada, Announcements for latest events, Openings of new Hotels, Diving centers and Clubs. All is now available at your finger tips so let us help with hotel room for your next trip. Be a frequent visitor, we have some great hotels, and make use of our fast growing, free of charge services before you book your next trip to the resort in Hurghada. Let us help turn your next holiday into the best holiday ever!
Looking for Holiday Reviews for the Panorama Bungalows Resort Hurghada?
Panorama Bungalows Resort Hurghada Holiday Reviews
"Went to Panorama for a New Year Holidays. Stayed three days in January. The weather was cold and windy. Had to wear warm coat at night time. The hotel is not new. The biggest advanture is that we had fire in our room. The TV set exploded while we were at an animation show. The room was all filled with… "
"wendy and bert we went to this hotel for our 40th wedding anniversary, we went on the 12th september and our anniversary was on the 20th. we stayed for 2 weeks. the hotel was nice, but definately not 4 or 5 star, i would say more of a 3 star, they tend to cater more for the russians and germans,… "
"Dave & Ann Worcester, stayed 5Sept 2017 till 19Sept 2017 Very Bad Customer Relations We stayed in one of the bungalows, the room was clean and comfortable and the glass partition in the floor was amazing for watching the fish. This was made even more special when a Blue Spotted Ray desided to spend time there. The food was very… "
"This Hotel was more like a 3 star. How ever the hotel was very clean, and all the staff very friendly. The food was very much the same,on most days,no good for anyone with food intolerance,Wheat Dairy etc: The water containers looked very shabby and did not have any seals on. Maybe this was the reason for our upset systems…. "
"Hotel should be 3 star not 5.electric cables on lights with tape around joints, never any loo rolls in the toilets,pool filthy,floors in rooms and balcony never cleaned or moped. Food directed to russian etc its not for english same food every day . staff very helpfull. pool dirty no chlorine they only clean top of water. No entertainment unless… "
"I was pretty worried about visiting this resort, as my boyfriend had booked our holiday very late on and hadn't seen the reviews about it already on this website, which I unfortunately read about two days before our flight…! So we obviously felt quite nervous about what to expect of the hotel. I just have to say two things, if… "
"Had a great holiday,met up with some friends,the rooms where spotless,the staff helpfull and friendly. Always clean towels and good sun beds and the food was great.Would definately go again. Thanks Tricia more "
"We have just returned from panorama bungalows resort hurghada, the hotel is situated quite a distance from the centre of hurghada, there is nowhere to walk to unless you are fond of walking around the rubbish dump on one side of it and the building work on the other, opposite the hotel is a large windfarm,The hotel is not 5*… "
"The hotel itself was was fine with plenty of space in the bedrooms which were kept very clean by staff who were as pleasant and friendly as any I have met over many years of holidaymaking. The pool areas were good with a plentyful supply of beds and towels and the all inclusive drinks were generally of acceptable quality. However… "
Hurghada Hotels
Some thoughts for exciting stuff to do in Egypt
Consult the map for suitable areas!.
Take a Cave tour of Sanur Valley Cave. (Cairo)
Pyramid of Djoser (Al Badrashin) This ancient structure is widely thought to be the oldest intact pyramid in the world.
Discover Desert Breath in Qesm Hurghada. (Hurghada)
Take a walk through petrified forest protected area. (Cairo)
Take a walk through petrified forest protected area. (Cairo)
More Hotels in Egypt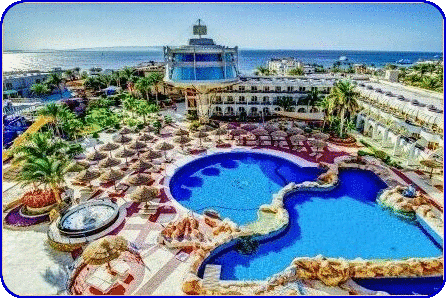 Take a Taxi to Hurghada
Egypt is an absolute nightmare for auto travel and getting to the Panorama Bungalows Resort Hurghada or nearby resorts can get a real pain. So why not take a pre-booked taxi and arrive at your hotel relaxed? You really don't want to take a random taxi, even at the airport, so try and book a reputable Hurghada taxi firm in advance.

Popular Hotels This Week