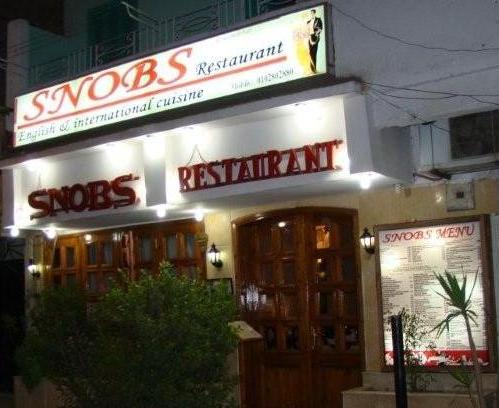 Snobs is located right at the end of a long line of restaurants just off the
main road opposite the Nile Palace, so apart from Jewel of the Nile about 30
yards further on, this was last on the map. Bright neon signs with a huge menu
board outside made us a little apprehensive at first, however, once inside we found
the restaurant spotlessly clean, tastefully decorated and the waiters attentive,
if not the most friendly.  Complimentary bread and dips were served while we waited
for our starters.  The food was great, in particular my partner's starter
of filo wrapped cheese parcels (which I couldn't resist) and my seafood platter.
Together with a reasonable bottle of wine wine the total bill came to just over
£20.00 for two. Highly recommended.
"We went here once during our stay. We both ate sea bass and had a suprise when the melas had a candle in a ring of onion! This was a nice touch if not a little bizare though I think some people may think this very odd. We had another suprise when the waiter brought over some extra pieces of… more "
---
"All resturant are good.But enjoyed The Lantern best more "
---
"My daughter and I visited Snobs on the last evening of our holiday in Luxor. First impressions of the place itself were favourable, it's nicely decorated and appears clean. The waiters although smartly dressed seemed miserable and were slow to greet us even though it was very quiet when we arrived. Only 3 tables were occupied but the waiter directed… more "
---
"We visited this restaurant twice during our fortnight's stay in Luxor. Amongst the ones we'd tried,10 in all, we only had time to return to our four favoutites, this being one of them (Jewel of the Nile being top of our list with Gems a close second). I loved the decor in this restaurant it was totally different to any… more "
---
"Snobs was quite empty when we visited. The decor is a little dated and strange. I ordered grilled prawns with rice which were well-cooked but very dry with no sauce to accompany them although I was quite amused when the plates arrived complete with candles set in onion(!) more "
---
"My wife and I liked Snobs enough to go back a second time during our week in Luxor. The decor's a little odd (given this is Luxor not London!) but the food and service more than make up for it. The Snob salad is particularly good. more "
---
"Our 2 teenage girls wanted "anglo" cuisine so we went to Snobs. Our waiter was lovely: helpful and charming. We were made to feel v. welcome. We had the meze for 2 which was a huge feast. Girls has pizza…. They enjoyed the aircon and relaxed atmoshere. Not a true taste of Egypt, but far better than some reviews have… more "
---
"Have been eating in snobs nightly since 2019, everytime we visit luxor. Never had a bad meal yet, and don't expect we ever will, as the CHEF is the best. The staff are excellent. We usually spend most of the night there having a laugh with all the staff. Each January, we celebrate our wedding anniversary there, and they always… more "
---
"I hadn't seen Snobs in the top ten list but overheard a family at our hotel saying they were going back that evening as it was such nice food. Me n my 2 kids took a taxi to Snobs and upon our arrival we were given a lovely cold flannel to cool down with. Service was excellent, choice of food… more "
---
"We had read some poor reviews on trip advisor, and an excellent review on traveltip.com. We felt the very positive traveltip review was very accurate, and thought it was one of the best 3 restaurants we visited (out of 10). Wonderful service, high quality food, the best presented by far, low prices, authentic atmosphere, as opposed to a Benidorm /… more "
---
For more details visit Snobs Luxor Reviews