Read more Bogmallo Beach Resort Reviews Below
Bogmalo Beach is a small beach-side village in Goa, India. It is situated in a small bay with around a mile of curving sandy beach. The beach is located about 4 kilometres from Dabolim Airport and 9 kilometres from the port town of Vasco da Gama.
Goa Diving
Goa Diving operates from Bogmalo Beach and scuba dives at Grand Island. Scuba diving at Grande Island is just a 10 min boat ride from Bogmalo beach. The village of Bogmalo is ideally situated 10 minutes from Dabolim Airport and can offer 1 to 5 star accommodation. Local dive sites include the SS Mary (a steamship built in West Hartlepool, England in 1948 which lies in shallow water close to Grande Island. Other sites include a quaint coral bay and the reef around the island. Celebrating 30 years of diving in Goa. Goa Diving, a PADI dive centre and India's first mainland scuba diving school was established in 1991 by Scotsman William Downie.
Worldwide Holiday Travel visited the Bogmallo Beach Resort December 2019.  This is our review.
If you are the manager or owner of the Bogmallo Beach Resort or are employed by the Bogmallo Beach we would be happy to include any reply in it's entirety.
Review of the 4* Bogmallo Beach Resort Goa India   (5* Goa standards) by Worldwide Holiday Travel  December 2019
Photographs from our visit to the Bogmallo Beach Resort
Surroundings:  Excellent well maintained couples oriented hotel running all-inclusive as well as B&B and half board.
Location: On the Beach.  Central to Bogmalo a short taxi ride to Vasco de Gama and 4km from Dabolim airport.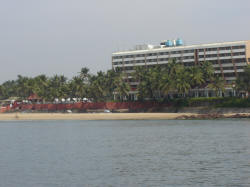 Food:  I think we probably enjoyed the food here more than any place we have stayed recently.  International cuisine as well as local   Minor irritations in that the buffet foods was nearly always cold unless you were early and dishes were different according to the chef on duty and not always as per the menu.  My husband enjoyed that but when I find a favourite dish I like it to be the same every time.
Not that either of these small niggles were a problem.  Food was readily changed if not to taste and a la carte always available at no extra cost (AI) freshly cooked.  Our favourites were Prawns Reginella Tournedos Rossini Thicken Lababdar Chicken Salad Juanita which came in half a pineapple and tomato soup with ginger.
Service:  Absolutely 5*.  We preferred the lobby bat where the waiters were even more attentive especially the young trainees. 
Yes we know that staff always have tips in mind that's true of anywhere but we felt that the staff here made every effort.  Davesh and 'Ricky' went out of their way in quiet times to tell us about their culture and local places of interest.  In the restaurant again the staff were exceedingly helpful.  On the odd occasion I didn't like my meal it was willingly changed.  My husband says I'm too picky – his Tournedos Rossini was gorgeous it just wasn't quite like the ones we'd had earlier that week – but as I said -willingly changed and anything adjusted to taste eg curries mild spicy hot more tomato etc.
Entertainment:  Very low key but pleasant.  Mostly bands and duets playing for the 'older' market.  Just what you'd expect giving the gorgeous peaceful setting.  Different music at the Coconut Grove and the lobby bar.  Fire-eaters/dancers one night a week – very entertaining.
Rooms:  126 rooms all with sea view. Deluxe rooms come with balcony tea/coffee and all rooms have air-conditioning a fridge and telephone. The rooms are excellent value for money very spacious clean and well equipped with hairdryer and toiletries Free safe available in the lobby.  A discount is available for non-refurbished rooms although these still have a sea view and are very spacious there is no balcony.
All Inclusive: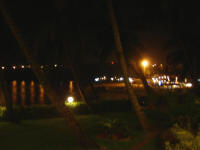 Compared to other all Inclusive resorts we've stayed at the food and service at Bogmallo Beach was excellent.  Staff at the Coconut Grove maybe not quite as attentive as elsewhere but then they were busier.  A small charge extra to eat there but the entertainment and drinks is still part of the AI even if you don't eat there.  We preferred the Nautilus – not as romantic as the outdoor Coconut Grove overlooking the sea and beach (see right) with the live music but we liked it.
Is it 4*?  Yes it is and it wouldn't take much for this hotel to be 5*.
Fitness and Treatment Centre:  Use of the gym which is more than adequate is free of charge.  With massages and treatments at extremeley reasonable costs.
Niramaya Ayurveda Village:  Belonging to the Bogmalo Beach Resort is the Niramaya Ayurveda Health Resort where you can experience all sorts of massage and treatments supervised by Dr.  H. Saleem Javid B.A.M.S.  You can also stay here instead of the hotel. We had a course of ayurvedic massages my husband with attention to his arthritis including back and neck pains myself with Nasyam treatments for sinus relief.  Both gave impressive results. Contact Doctor Saleem Javed at the Niramaya Ayurveda Village for more information.
Finally:
Well managed hotel with air conditioning very efficient.
Wardrobe space was more than adequate.  Pet hate of mine is not having enough space but no problems here.
The beds are comfortable and the maid service excellent.
The pool is great plenty of room with towels provided.  A few step to the beach and a warm sheltered bay to swim in.
We didn't get to try the diving due to a chest infection but there is a the diving centre at the Bogmallo Beach.  Try a discover Scuba course or maybe even something a bit more adventurous.  We will review this when we return in March
Goa Diving at the Bogmallo Beach Resort.
Would I go back to the Bogmallo Beach Resort?
Absolutely – again and again.  Watch for our additional comments March 2019
Bogmallo Beach Resort   Their website P.O.B. Bogmallo Goa 403806 Tel :0832-2538222 to 35 Fax :0832-2538236 ]]>
Location
Set on Bogmallo Beach; south of Zuari River; 5km from Goa airport
Facilities
Pool with spa bath; sun terrace; Nautilus restaurant with buffet and a la carte; Sunset lobby bar; Coconut Grove Goan Shack; lounge area in lobby; 24 hour reception
Activities
Two tennis courts; table tennis and board games; squash; electronic casino with bar and pool table; scuba diving down the beach; Ayurvedic treatments; massage; sauna; steam room; daytime and evening entertainment
Rooms
Air conditioned deluxe rooms have two single beds or one double bed seating area satellite TV with movie channel tea and coffee making facilities fridge bathroom and balcony with sea view.  Standard rooms (non-refurbished) without  tea and coffee making facilities are available at a reduction.
All Inclusive What's Included:   (Thomas Cook)
Buffet-style breakfast and buffet-style or a la carte lunch and dinner (excluding tiger prawns king prawns lobster and king crab) in the Nautilus restaurant
Snacks and ice cream served at selected times between meals
An unlimited amount of hot soft and alcoholic drinks (excluding international brands diet coke etc.) served till 11pm.
Activities usually include: darts; football; table tennis; tennis; volleyball; waterpolo
Frequent daytime activities and evening entertainment usually include beach games; cookery demonstrations; walks; live music.
Visit  more review sites for Bogmallo Beach Resort.
Review about Bogmallo Beach Resort
First Choice Submitted By: Miss DS Way
Overall Rating: 10/10
Comments: What a beautiful place! This was my first visit to India and I have been longing to go back to this resort ever since!
The resort is set in a small bay with a number of shops/bars/cafes nearby serving fresh food and seafood. The staff at the hotel and in all the nearby shops etc were very attentive.
The resort has a wonderful laid back atmosphere and after two weeks here I did not want to go back home the hotel pool has an ideal setting facing out to the sea and the sunsets while having dinner really cannot be beaten. There is a spa on site offering treatments at incredible prices too!
Must plan to go back soon – I told my friends and family and now they go once a year!
---
More Bogmallo Beach Resort Reviews:
Coming Soon
Holiday Resort Reviews