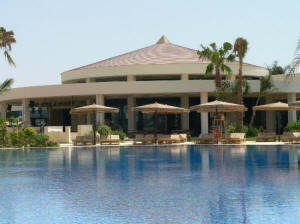 Read more Maritim Jolie Ville Royal Peninsula Reviews Below
Worldwide Holiday Travel visited the Maritim Jolie Ville Royal Peninsula September 2017.  This is our review.
If you are the manager or owner of the Maritim Jolie Ville Royal Peninsula or are employed by the Maritim Jolie Ville Royal Peninsula we would be happy to include any reply in it's entirety. 
Review of the 4* Maritim Jolie Ville Royal Peninsula Sharm El Sheikh Egypt    (5* Sharm El Sheikh Egypt standards) by Worldwide Holiday Travel  September 2017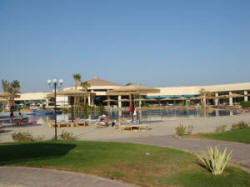 Surroundings:  Excellent well maintained gardens with plenty of sunbeds but I suspect may be a problem in busy times.
Location: A short drive from Sharm airport.  Constant planes overhead may be a problem for some.
Food:  Excellent food although a little limited in the restaurant at lunch time.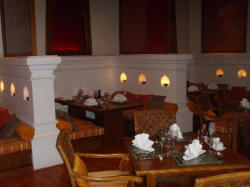 Service:  Very good although tipping always helps of course.  The Italian was a pleasant evening although the menu was basic.  The Thai was good but pricey at £50 for those having paid all inclusive already.  Let down by cold plates and service that was too quick leaving you feeling rushed.
Entertainment:  Basic but did have a little more atmosphere than it's sister hotel the Golf.  However the hotel was very quiet as it was Ramadan and too hot for golfing.  This would no doubt have an effect.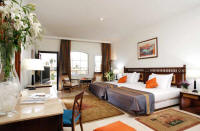 Rooms:  337 rooms and 16 suites
Our room a standard was gorgeous and very spacious – in fact I've had hotel rooms that were smaller than our bathroom here.  Wardrobe space was superb.  Free wireless internet access in our room was a great boon.
All Inclusive:  Called 'Premium Service' this was excellent value for money  although it was tiresome to have to pay for coffee and brandy which I enjoy before retiring.  Still good value for money.
Finally:
Well managed hotel with efficient air conditioning very well run although attention should be given to entertainment and atmosphere. 
The pool is great plenty of room with towels provided.   However I did miss not having a  beach area. 
Would I go back to the Maritim Jolie Ville Royal Peninsula?
Probably not.  Perhaps in September again if the price was right but we didn't feel this hotel had much to offer and I don't think I would like to have been there when it was busy.  It's only saving grace was the pool area being so quiet when we went.  Having said that the staff and service couldn't be faulted.
Maritim Jolie Ville Royal Peninsula   Their website
 Jolie Ville Royal Peninsula Hotel & Resort
El Salam Road at Um Marikha Bay Sharm El Sheikh South Sinai Egypt Phone +20 69 360 4200 · Fax +20 69 360 4199
Facilities
Maritims luxurious Jolie Ville Royal Peninsula Hotel & Resort in the Red Sea's beloved Sharm El Sheikh is the ideal starting point for discerning holidaymakers wanting to discover the "Land of the Pharaohs". The spacious hotel complex enjoys direct access to the 18 hole championship golf course and occupies an enviable spot between Naama Bay and Sharm El Sheikh's International Airport. The facility is nestled amidst vast private grounds covering a total of 200 000 sq.m. The landscaped pool area alone occupies an incredible 4 000 sq.m. and affords guests a unique oasis of relaxation. For those wishing to treat themselves to some well-deserved pampering the "Thai SPA" includes a sauna hydrotherapy and massage facilities. A total of five restaurants ensure excellent dining including the "Al Forno" Italian restaurant with authentic stone oven and the "Siam" Thai restaurant headed up by a multi-award-winning Thai chef.
More Maritim Jolie Ville Royal Peninsula Reviews:
Jolie Ville Royal Peninsula Sharm El-Sheikh ****
ukJJ1 UK  Sep 7 2017
Stayed at the Maritim Jolie Ville Royal Peninsula in Aug 08. Hotel grounds and rooms are very good. Food is generally good. Beer is OK wine is dreadful. Staff are helpful as is the general manager who really put his self out to ensure issues are resolved. All inclusive is here as I understand it is typical for Egypt and only local alcoholic drinks. Only the beer was drinkable. Confusion can happen because there are 3 Maritims near Nama bay and only this one is listed on trip advisor. The best point is the Swimming pool. Big and spotlessly clean. The worst is the really bad entertainment. You will really struggle to get peace by the swimming pool and at night it is not much better. We went with teenage children and it was not the best as there were very few European children to mix with and language restricted them mixing well with locals. Summary good but no intention to return.
---
Holiday Resort Reviews