Wondering about planning a vacation? We are pleased to announce that Worldwide Holiday Packages will soon be posting more articles on planning a vacation, holiday events in Sharm El Sheikh and in the whole south Sinai. Local News, Special offers from hotels such as Hotel The Ritz-carlton, Sharm El Sheikh, Announcements for latest events, Openings of new Hotels, Diving centers and Clubs. All is now available at your finger tips so let us help with room for this years holiday. Be a frequent visitor, we have some top quality hotels, and make use of our fast growing, free of charge services before you book this years holiday to the resort in Sharm El Sheikh. Let us help turn your next holiday into the vacation of a lifetime!
Looking for Holiday Reviews for the Hotel The Ritz-carlton, Sharm El Sheikh?
Hotel The Ritz-carlton, Sharm El Sheikh Holiday Reviews
We returned from a week in this lovely hotel a few days ago.
I was a little nervous having read some of the negative reviews before going, but needn't have worried! The hotel is beautiful! A stunning lobby greets you as you walk through the entrance door, high ceilings, beautifully lit, and vast! The place is huge!
Our room was a a sea view double, and the view really was so so lovely! The room itself was immacultely clean, spotless and very spacious. Nice big bathroom with one sink, one bath, an enclosed toilet and a seperate walk-in shower. The shower itself could have been better considering the 5 star status, but it was perfectly adequate. We had 2 double beds, one firm and one soft!! We LOVED having 2 beds to stretch out in, not sure if the different mattresses were a deliberate 'choice' or just coincidence, but I thought it was a nice touch nonetheless. The pillows were plump and soft and when we requested more pillows they were delivered to our room immediately!
We had the buffet breakfast everyday and the choice was wonderful, so much to choose from and everything lovely and fresh. The staff almost tripping over themselves to accommodate you and make sure you are happy! So friendly!
The pools are absolutely gorgeous!! One is even heated!! Although in June this wasn't really necessary as all the pools were lovely and warm anyway!! Very clean. Plenty of sunbeds around the pool, we had a choice of loads everyday, and there is a lovely lifeguard who also provides the towels for the sunbeds, there seems to be an unlimited supply! Service around the pool is great, they will bring you anything you ask for, drinks and food! They also came round a couple of times a day with complementary melon slices!
The hotel was very quiet whilst we were there, possibly due to the credit crunch? It was only about 40% occupied, so there was no problems with overcrowding or getting tables in the lovely restaurants.
The food is delicious! We had no tummy upsets at all, even though we went prepared with all sorts of immodium and rehydration salts!! Our tour guide advised us not to drink the tap water, so we didn't, just sticking to bottled water, but we cleaned our teeth with the tap water and we were fine! We had ice in our drinks too which didn't upset us at all!
We were advised too, to not buy anything in the hotel as it is very expensive, but to be honest, we're a bit lazy and didn't want to walk to the supermarket to buy supplies, so didn't mind paying the extra for the convenience (we were on holiday after all!!) and actually it wasn't that expensive! We live in London where everything costs a fortune anyway so we didn't find that the hotel was very expensive. We had dinner in the Italian restaurant one night and the bill came to about £120 for the 2 of us, that was for 3 courses of really lovely food, and a bottle of pink champagne! We would pay that and more for the same sort of dinner in a nice restaurant in London. There was also a buffet evening meal but we didn't try this so can't comment but am sure it would have been lovely.
We had room service a lot (everyday!!) which we found efficient and friendly, nothing is too much trouble for the staff! We only stayed bed and breakfast and our final bill on checkout was just over £600! That is a fraction of the bills we usually rack up when on holiday!
We had a wonderful holiday at this hotel and we wouldn't hesitate recommending it to anyone!! Actually it's a quiet hotel, there's a pianist and singer in the bar in the evenings, other than that there's no nightlife, so don't go here if you're looking for a wild party! (exactly our kind of place!)
We just got back from a weeks stay at the Ritz. This was a last minute booking & did not have time to check prior reviews.
It was advertised as 5* but aside from the lovely Italian & Japanese restaurant, it was a low 4 at most.
Pool area – Two pools, all well maintained but the area was peeling & in need of restoration. The pool service was appaling-apparantly due to recent staff cut backs. Expect to pay £5.50 for two cokes. Daily water aerobics advertised but never happened, no music or entertainment around the pool at all.
Room – we had a standard room & it was very large with a balcony. Very average bathroom, with bath tatty and peeling & the shower was hit & miss. Free bottles of water daily but no turn down service. Our room was a good 10 minute walk to the pool & reception area, inc passing an area smelling of sewage.
Restaurants – High quality food in the Italian, Japanese & Lebonese restaurant – expect to pay around £100 for two courses with water & Egyptian wine. They are very quiet of an evening so bookings not always needed. Lunchtime food by the sea is nice, but watch how they don't give you a full glass of wine when you order by the glass.
Recommendations – get an upgraded room near to reception, takes lot's of cash & do a few trips to get out.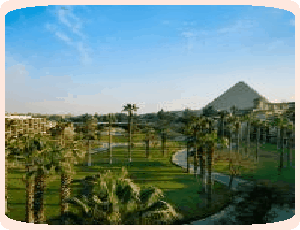 Sharm Hotels
Some suggestions for exciting stuff to do in Egypt
Consult the map for suitable areas!.
Discover the beauty of underwater in the blue hole of Dahab. (Alexandria)
Malkata Palace (Luxor) The city-sized home palace of one of ancient Egypt's most powerful rulers gives us a rare look into the lives of the epoch's rulers.
Take a tour of Safari to Sahara Park. (Hurghada)
White Desert (Al Farafrah) An alien landscape of chalk-rock in the Egyptian desert.
White Desert (Al Farafrah) An alien landscape of chalk-rock in the Egyptian desert.
More Hotels in Egypt
Take a Taxi to Sharm
Egypt is an absolute nightmare for auto travel and getting to the Hotel The Ritz-carlton, Sharm El Sheikh or nearby resorts can get a real pain. So why not take a pre-booked taxi and arrive at your hotel relaxed? You really don't want to take a random taxi, even at the airport, so try and book a reputable Sharm taxi firm in advance.

Popular Hotels This Week