Looking for Holiday Reviews for Kandy View Hotel?
Kandy View Hotel Holiday Reviews
"I stayed in this hotel for one night only as I was due to go to another part of the island the following morning. There was a A/C unit in the room but the remote control was (purposefully) missing so I couldn't use it. At some point in time there must have been a ceiling fan but it was missing"
---
"I can only go by my personal experience of this hotel which I booked over the internet I arrived at the bus station mid afternoon after a hot bus ride down from Nuwara Eliya and got a Tuk Tuk (well the driver got me first) rather than phone for a free pick I thought it was easier first please use"
---
"We stayed at the Kandy View Hotel during a recent 3 week holiday in Sri Lanka. The hotel was fairly basic but clean and safe and excellent value for money. The breakfast was good as was the rice and curry and the view from the restaurant is great. However the real gem of this hotel is its owner Kanchana. During"
---
"We stayed there for two nights in second week of Feb '09. The view from the hotel's terrace is good. It's location in a quiet place is not far from the lake and the famous Tooth Relic Temple. Rooms were fairly clean. There is a small swimming pool by the entrance fairly clean. The hotel chairman also helped us with"
---
"It's a nice clean & comfortable hotel with a lovely view of the city from the restaurant. But not recommend for those without a car as it is far from town up a steep hill. Also not recommend for single women travelers as the owner is a lecherous man. And also not recommended for those opposed to very loud Christian"
---
"Me and my husband stayed for two nights in kandy view hotel.The staff was very helpful.The manager of hotel helped us a a lot ..right from the booking from India till we left from Kandy.Pickup-drop facility and sight-seeing was also arranged by the hotel at a reasonable cost.In terms of hospitality good hotel! Rooms were clean..there is scope of improvement"
---
"When my friend visit from Uk i got a chance to stay at Kandy View hotel.It was just excellent.The staff is really friendly and we had a great time.The rooms are clean and tidy & the food was also good.The roof top restaurant gives you an amazing view.We will again come back "Kandy View" I would recommend it to all"
---
"How to describe our worst hotel experience in time in Sri Lanka…Some rooms are ok and some are really bad: smelling moisture not clean sheets bathroom with loose electric wires above shower etc…Staff promise things and change their minds 5 min later They are bind to travel agent and driver where the high price for your poor room is paid"
---
"I stayed at tis hotel with my husband for one night as we were on a trip around Kandy. This hotel is a great budget hotel at around £2.47 per night including breakfast. The food is excellent and the staff are very nice and will do anything to help you. The rooms are clean but basic and ours diddn't have"
---
"Hallo ich habe 3 Tage in diesem Hotel verbracht und es war mir eine gute Ausgagngsbasis um die alte Stadt"
---
Kandy Hotels Hotels
SriLankan Air Taxi to Kandy Hotels
Sri Lanka is a land that is truly blessed by Nature. Its beauty unfolds in myriad ways and with so much to see, time is precious and getting to the Kandy View Hotel or nearby resorts can get a real pain. So why not take a Sri Lankan air taxi and arrive at your hotel unstressed? Internal flights in Sri Lanka operate from a dedicated domestic terminal at the Bandaranaike International Airport and fly to Colombo City (Waters Edge, Kotte), Bentota, Dickwella, Koggala, Kandy, Castlereagh, Sigiriya, Batticaloa and Trincomalee.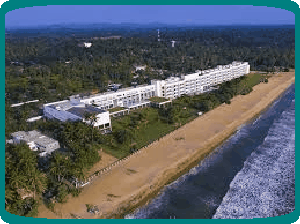 Popular Hotels This Week