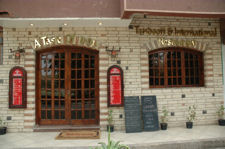 Wow, this restaurant certainly lives up to it's name.  An extensive menu
and faultless food.  I started with the chicken tikka which was tasty and
moist, followed by Tandori King Prawns and a delicious naan bread, my partner
opted for the chicken tikka masala with rice.  The restaurant itself was
smart and clean. The service quick and the waiters attentive.  The bill for
1 starter, 2 mains, 2 side dishes and 2 chilled beers came to an incredible
175LE, not bad considering I'd had the king prawns.  I can certainly
recommend this restaurant to anyone looking for some decent Indian food.
"The two young lads on waiter service work very hard in this restaurant. The meal was very good and value for money. go here if you want an authentic Indian currie or English type meal. Highly recommended. more "
---
"This restaurant is beautifully lit and decorated-very romantic. The music was soft and well-chosen. A chilled glass and the local Stella (not the Artois sort!) is very welcome after a sweltering day. I stuck to curry but my husband had a steak one evening and loved it. The dupiaza is lovely but the ceylon, particularly, the king prawn one, is… more "
---
"I visit Luxor on a regular basis. Every time I visit, the Taste of India is a must. Love the food, love the service and have never had a bad meal. If you go later in the evening when the rush has died down then Russel, the owner, has time to sit and have a drink and a chat with… more "
---
"went to this restaurant in august 2019. the word bland sprang immediately to mind. all the dishes were just plain and tasteless. not worth the visit at all. the taste was not indian at all. i wonder if they have an indian chef. more "
---
"Although we spent most of our holiday trying to find authentic Egyptian cuisine, the Taste of India became our favourite place during our stay. All of the food is cooked fresh there and then, wonderful starters, top notch curries and a good choice of desserts (fruity pancakes). If you go try the Tandori King Prawns huge and delicious. Aside form… more "
---
"Although this restaurant serves international cuisine, we went here because it's primarily an Indian restaurant, and because we like Indian food! The air conditioning is superb, this has got to be the coolest place in Luxor! Service is very friendly and attentive, without being 'in your face'. The food is very good indeed, the usual range of dishes you'd expect… more "
---
"Just got that urge for a curry and we had to go! we wer'nt let down,the food was fresh and plentiful,cheap and fast.The lamb that i had was as good as,if not more tender,any i've tried in Britain(and we live close to both,sparkbrook and Lye,in the west mids)This restaurant is well worth a visit. more "
---
"I have eaten here before when the running of the place seemed a bit hap hazard, though never the food. Glad to say that on this years visit, everyone knew their own job, and didn't get involved in other peoples. The food was good, the service was good, and as we were leaving a table of 8 Indian diners came… more "
---
"Very good food, meat okay, but everything else was excellent. Flavours super. Chilli Naan was by far the best I have ever had. Service super. Big thumbs up, as good as you will find anywhere in the UK. No smoking between 6.30 and 9.30 – a super idea. more "
---
"Having just returned from two weeks in Luxor, wanted to write about this restaurant. After eating at other establishments, we felt this was the best. They serve a good selection of 'international' food, such as cheese and potato pie, chilli, etc, but we ate Indian and found it to be better than the ones we have at home. The portions… more "
---
For more details visit A Taste Of India Luxor Reviews