Looking for Holiday Reviews for Amaya Lake Hotel?
Amaya Lake Hotel Holiday Reviews
"Lovely setting beside the lake. All up to date and kept clean. Stayed in a semi detached cottage which was lovely very quiet and beds turned down each evening with a message in petals and leaves. Food was good but service poor despite there being so few guests. Pleasant pool area. Good location for cultural visits in the area.. Very"
---
"we stayed here for 3 nights whilst doing the cultural triangle tour. its a lovely hotel set in beautiful gardens/surroundings. theres a lovely pool you can walk up to the lake or even just around the gardens. you can easily relax in this hotel. food was great with lots of variety. only thing that bothered me were the evident creepy"
---
"The hotel has fabulous ambience and has unique layout. However the staff are extreemely rude uncourteous and more over cheats. they can be deceptive and cheat you with wrong information and add extra bucks to your bill and you end up paying more for nothing. If budgets permit please stay ar Heritance Kandalama. more "
---
"If you like nature you will love this hotel. The bungalows are scattered in a huge meticulously kept garden. Actually the surroundings are more like a very big beautifully kept park with huge trees. We saw several species of beautifully coloured birds and fireflies in the evening absolute magic! There are single or two adjoining bungalows. We occupied a single"
---
"Stay 5th-7th Jan 2009 Amaya Lake is such a different hotel to any place I have stayed before. Scenery is amazing. Theme of the hotel is super. Outstanding service from the staff who always greeted you with a smile on their face.. Environment /eco friends tourists would love this hotel. Trust me this place would not disappoint you in anyway…. "
---
"I stayed here with a friend (we are both women in our 50s) for two nights and wished we had four nights. It was just lovely – a wonderful setting service calm peaceful and thoroughly delightful. more "
---
"A magical place…serenity and calmness…perfect place to relax and get away….walking towards your cabana makes you feel like you are walking to your cottage in a magical forest…the only thing was that the hotel wasn't prepared for the excessive humidity and mosquitos…other than that we had no complaint. more "
---
"The Amaya Lake Hotel was formerly known as Culture Club. It is situated on the banks of the Kandalama Tank (reservoir) which is renowned for bird and other wildlife watching. The locals are only too aware of the wild elephants that visit the waters and then devour everything in sight on occasions. Do not worry though although the hotel grounds"
---
"Very well located along the lake large and beautiful garden very nice swimming-pool. Bungalows are clean and confortable spread all over the garden. The walk from the lobby to the bungalow is really nice but may be sometimes difficult for older guests due to irregular paving and low lighting (and heavy rainfalls are not rare in the area) so better"
---
"Stayed here for 2 nights in August 2008. I was surprised by the welcome and the service from the front desk. The front office staff came to me to complete the paper work instead of me standing at the counter. We were allocated a detached chalet (#76) which is about 1 minute from the main building. The stay was completely"
---
Dambulla Hotels Hotels
SriLankan Air Taxi to Dambulla Hotels
Sri Lanka is a land that is truly blessed by Nature. Its beauty unfolds in myriad ways and with so much to see, time is precious and getting to the Amaya Lake Hotel or nearby resorts can get a real pain. So why not take a Sri Lankan air taxi and arrive at your hotel unstressed? Internal flights in Sri Lanka operate from a dedicated domestic terminal at the Bandaranaike International Airport and fly to Colombo City (Waters Edge, Kotte), Bentota, Dickwella, Koggala, Kandy, Castlereagh, Sigiriya, Batticaloa and Trincomalee.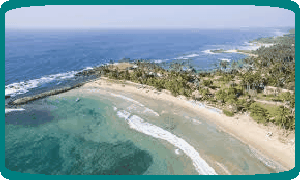 Popular Hotels This Week