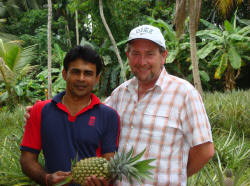 For a very professional service, with excellent spoken English and safe driving, Janith at Udara Tours offers top quality tours well below hotel and holiday rep prices.  Air conditioned mini modern minibus for you comfort. Free pickup from all Bentota and Beruwela Hotels.
Prices and Enquiries for Sri Lanka Tours
Kandy (2 day tour)
This is the tour to the most beautiful city in Sri Lanka.  On the way you can visit the Elephant Orphanage at Pinnawala.  Visit the Royal Botanical Gardens at Peradeniya which was first built as a pleasure garden by a Sinhala King & later expanded by the British. It is 147 acres in extent and has an amazing variety of trees plants and flowers. Golden Roofed Temple – The Temple of the Tooth houses Sri Lanka's most important Buddist relic – the sacred tooth of Budda. The Temple an imposing building with an impressive 'golden' roof is situated next to the vast lake in the centre of Kandy.
Kandy (2 Day excursion)
Day One
Starting of the tour: time 6.00 a.m proceed to Kandy on the way you could see (rubber plantations pineapple and paddy fields etc…) en-route visit the Pinnawala elephant orphanage.
In the evening visit the Tooth Relic Temple and view a cultural show.(dinner and over night stay in a hotel (on H/B basis)
Day Two
Do a short city tour in Kandy and visit a gem Lapidary and visit the Peradeniya botanical garden.
Visit a Spice garden while way back to Colombo.
Return to the hotel after the lunch.
(Transport Hotel (H/B) basis and all entrance fees are included)
---