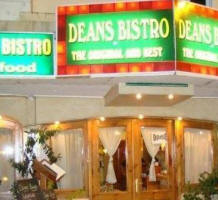 You might well be a little dubious at first having travelled all the way to
Egypt only to find a place called 'Dean's Bistro'.  However, whilst the
decor is very basic the restaurant is spotlessly clean and the food itself 
well cooked and of generous proportions. This busy little restaurant has a
lively and friendly atmosphere.  While I chose a tasty Thai curry, my
partner had a fillet steak which was 'cooked to perfection'.  Our overall
opinion of Dean's Bistro – cheap and cheerful.
"Went here on several occasions food beautiful (steak and salad perfect). Clean and staff very pleasant. Great value for money would definately recommend. more "
---
"Having a coeliac as a partner I found that every effort was put into making his food both good to look at and excellent to eat. The owner couldn't have tried harder. Each morning fresh vegetables arrive for that days menu. Pies are homemade be it savoury or sweets and the custard is heaven. Every restaurant has days when you… more "
---
"Eaten there quite a few times…even though Dean wasn't always there, the quality of food and service were consistently good! All in all, a superb experience (with the added bonus of fine music!). Three cheers for Dean!!! more "
---
"stayed at the sonesta in may 2weeks and found deans what a find ate there most nights starters main sweets fab going back 23rd sept will be eating at deans more "
---
"Deans Bistro is very small. It is clean and the food was ok. Try to avoid going to this restaurant too early. Dean has three waiters who like to watch you eat your dinner more "
---
"Not a bad cafe/restaurant, but one thing I did not like was that the owner (Dean) needs to have a lesson or 2 in communication skiills as he seems, in my opinion, very rude the way he speaks to both staff and customers. Also heard another restaurant being put down, which is not necessary. In addition it is not nice… more "
---
"We found Deans by accident on the last night of our holiday and thought it was fantastic! My friend said it was the best fillet steak he'd ever had and it certainly looked like it was excellent quality. Apparently the chef is the only British qualified chef in the resort… I had some beautiful chicken and we even went back… more "
---
"Deans Bistro is our favourite restaurant in Luxor, on a two week trip we ate there at least four times and were never disappointed. Meals are good value and very tasty. I would recommend this restaurant to anyone and I hope to see Deans Bistro listed in the lonely planet guide book where it should be. more "
---
"A little gem in the back streets. Food was delicious and the waiters very attentive. We ate here twice during our week holiday and would definitely go back again more "
---
"We went to the above dive last week, the food was only just ok and the owner was the ruddest man I have ever met. The staff were ok, trying to work hard under the wrath of Mr Dean. I left my specs on the table there, and the day after he would not give them back to my driver… more "
---
For more details visit Deans Bistro Luxor Reviews