Wondering about where to go on vacation? We are pleased to announce that Worldwide Holiday Packages will soon be posting more articles on where to go on vacation, holiday events in Sharm El Sheikh and in the whole south Sinai. Local News, Special offers from hotels such as Hotel Baron Resort Sharm El Sheikh, Announcements for latest events, Openings of new Hotels, Diving centers and Clubs. All is now available at your finger tips so let us help with accommodation for your needs for your vacation. Be a frequent visitor, we have some top quality hotels, and make use of our fast growing, free of charge services before you book your vacation to the resort in Sharm El Sheikh. Let us help turn your next holiday into the best holiday ever!
Looking for Holiday Reviews for the Hotel Baron Resort Sharm El Sheikh?
Hotel Baron Resort Sharm El Sheikh Holiday Reviews
Stayed at the Baron Resort and had a thoroughly relaxing holiday. The hotel facilities were all excellent, as were the staff in all parts of the hotel. We would like to say a special thank you to Julia Guest Relations for her efficiency and Captain Ibrahaim Sabry and Moustafa(good luck and happiness in his forthcoming wedding) for the excellent service in the Sinai Restaurant especially when it was my birthday, they brought a birthday cake out on the trolley and sang Happy Birthday to me along with the rest of the restaurant. Overall the food was good. We had a lovely Egyptian Massage in the Spa.The staff round the pool area were attentive and polite, the pool was always clean and inviting. The lavender scented white cold facecloths were brought round daily to cool yourselves from the heat and we were even asked if we would like our sunglasses cleaned. Thanks to Ahmed who cleaned our bedroom, fresh sheets and towels everyday, there was a welcome basket of fruit in our room on arrival. Bathrobes and slippers too. The entertainment was good from the Animation Team in the Amphitheatre albeit only for half an hour 10.00-10.30pm. We ate at the Egyptian Restaurant and had a very good meal. We flew to Luxor to see the Valley of the Kings/Queens Luxor & Karnak Temples and had a magical day it was all very well organized through the rep and the hotel made up a very nice breakfast box. The beach was to die for and there was always something going on but not in your face all the time. If you wanted to join in fine but if you didn't that was fine too.Snorkelling around the reef off the pontoon was good and a wide variety of fish were to be seen. Overall the holiday was excellent . The General Manager Jean Pierre was always around to see to it that everything was running smoothly and he was very approachable and friendly. We have been to Egypt four times and the Baron Resort was the best hotel that we have stayed in. Would we return? you bet we would!
What a place! what a resort! – originally booked Baron Palms, then were told to go to Baron Resort, which personally speaking i thought was better. Great staff, very clean resort, and plenty of things to do. On arrival we were greeted with hawain style flowery type things around our necks and a very cold juice, staff in this place were very friendly, from baggage boys right down to the cleaners… food was good and bar service was great, esp bar staff in lobby area, romi, mohammed, sameh, and mohammed again were fantastic and great fun. Namma bay not too far from this resort, tgi fridays, hard rock cafe, passah and litle buddha nightclubs were a few placed that we visisted and really really enjoyed, great fun and happy atmosphere. would recommend this place to everyone…thanks to everyone at baron resort and all the people we met.
Really enjoyed the Baron Resort. Had previously been to Baron Palms Hotel and was a bit upset to be bumped across to the Resort. Dont worry if this happens to you. Fantastic hotel reception, who changed our room as we wanted a double and on a higher floor. Also upgraded us to Premium All Inclusive, basically meant a few extra's but mainly included free mini bar which was useful. Although others at the hotel have said tip the room staff well and mini bar is automatically re-stocked free of charge! Great gardens and lovely beach. Definately would return.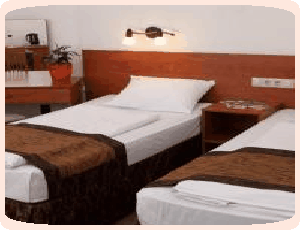 Sharm Hotels
Some great ideas for unmissable trips to do in Egypt
See the map for suitable areas!.
ave coffee at El- Fishawi Cafe. (Alexandria)
St. Catherine's Monastery (Saint Katrin) Charnel house at the foot of Mount Sinai.
Swim in Sharm El Luli beach. (Hurghada)
Find inspiration out of your window with exclusive views from The Nile Ritz Carlton Hotel. (Cairo)
Find inspiration out of your window with exclusive views from The Nile Ritz Carlton Hotel. (Cairo)
More Hotels in Egypt
Take a Taxi to Sharm
Egypt is an absolute nightmare for auto travel and getting to the Hotel Baron Resort Sharm El Sheikh or nearby resorts can get a real pain. So why not take a pre-booked taxi and arrive at your hotel relaxed? You really don't want to take a random taxi, even at the airport, so try and book a reputable Sharm taxi firm in advance.

Popular Hotels This Week