Wondering about planning a vacation? We are pleased to announce that Worldwide Holiday Packages will soon be posting more articles on planning a vacation, holiday events in Sharm El Sheikh and in the whole south Sinai. Local News, Special offers from hotels such as Hotel Jaz Mirabel Beach Sharm, Announcements for latest events, Openings of new Hotels, Diving centers and Clubs. All is now available at your finger tips so let us help with hotel for your needs for your holidays. Be a frequent visitor, we have some top quality hotels, and make use of our fast growing, free of charge services before you book your holidays to the resort in Sharm El Sheikh. Let us help turn your next holiday into the trip of a lifetime!
Looking for Holiday Reviews for the Hotel Jaz Mirabel Beach Sharm?
Hotel Jaz Mirabel Beach Sharm Holiday Reviews
Have just come back from a weeks stay at the Jaz Mirabel Beach, first impressions wow what a place, the reception area marble floors, pillars and gorgeous chandaliers, check in easy with polite staff with a welcome drink from the adjoining bar if we so required. we were handed our keys and shown to our accomodation, shortly followed by the porter with our cases, although there was just the two of us we had a family room consisting of a huge king size bed, a separate lounge area with two settees (could be converted to single beds), a good sized bathroom with walk in shower, toilet/bidet and freebee soap, shower gel, shampoo and conditioner, a lovely good sized balcony and we were lucky enough to be overlooking the pool area with lovely landscaped gardens, well maintained with pretty flowers and palm trees. The staff from the gardeners to head waiters and chefs were ever so polite and nothing was to much trouble, we enjoyed the food in the restraunts although we didn't try the a la carte (1 free visit per stay), the complex is right on the beach with a pool bar serving cold drinks all day, sun beds and umbrellas all provided on the beach and around the pool, a ticket system for beach towels which enables you to have a clean towel every day provided you hand in your ticket and return your towels after use- great nice clean towels every day, works well.
I would say a little short on evening entertainment, but some lovely bars inside and out and lovely and comfortable, kept us going!. This was our first visit to egypt and will not be our last, and would definately go back to Mirabel Beach – A great holiday, great hotel, great staff, well done and thank you.
This hotel looked good on the website, however, you always air on the side of caution till you get there. As soon as we walked into the reception we knew it was going to be good. The staff at the resort are lovely and they seem to love the english people and are friendly. They really look after you well. Also, the food was really really good. Better than I have expected. My friends had never stayed all inclusive and they were amazed and how good the option was. The short walk to the beach is great with free sun loungers and a bar where you can still get free drinks. The snack bars also do good food. Also the rooms are very nice and clean.. We had a couple of minor problems and these were sorted very very quickly. The Staff really look after the hotel and the settings are beautiful. The only downside is that there is no really entertainment as far as I am concerned but as long as you have good company then you should not get bored. All in all, this was a brilliant place to stay.
My husband and I stayed at the Jaz Mirabel Beach hotel for a week and we had a fabulous time, the hotel service and food was amazing. the staff were very helpful, rooms were extremely clean and the housekeeper made wonderful creations with our towels a smile each day when we went back to our room, wonderful, would most certainly visit again in the near future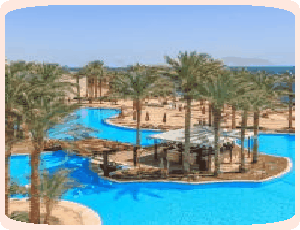 Sharm Hotels
Some thoughts for amazing places to do in Egypt
Consult the map for suitable areas!.
isit the oldest church of Egypt, The Hanging Church. (Giza)
Dendera Light (Dandarah) Ancient Egyptian relief, claimed to depict an electrical light.
Explore about mummies at Mummification Museum (Luxor)
The Pyramid of Senusret II (Al Lahoun) It might not be the prettiest pyramid in Egypt, but it may be the muddiest.
The Pyramid of Senusret II (Al Lahoun) It might not be the prettiest pyramid in Egypt, but it may be the muddiest.
More Hotels in Egypt
Take a Taxi to Sharm
Egypt is an absolute nightmare for auto travel and getting to the Hotel Jaz Mirabel Beach Sharm or nearby resorts can get a real pain. So why not take a pre-booked taxi and arrive at your hotel relaxed? You really don't want to take a random taxi, even at the airport, so try and book a reputable Sharm taxi firm in advance.

Popular Hotels This Week