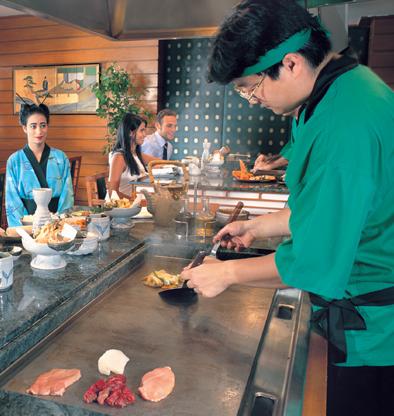 Miyako, I believe Luxor's only Japanese restaurant, is located at
the Sonesta st George Hotel.  Having eaten Egyptian/English/Indian food for
the last couple of weeks we decided to treat ourselves to something totally
different. The food was delicious, particularly my partners
seafood teppanyaki.  The bill,
however, was
quite expensive (only to be expected for a
hotel restaurant) but was nevertheless good value for money.
"We ate twice in Miyako. We arrived late and were tempted in by the waiter. We had gorgeous crab sushi and tepanyaki. The chicken is beautiful and the garlic and friend rice were mouth watering. The cook encouraged us to join in too! A lovely way to start to holiday! On our second visit we had a similar menu but… more "
---
"Ate in restaurant twice. Teppanyaki was a good experience and food delicious but you may need to reserve a table. more "
---
"We had dinner a few times here while we stayed in Luxor and enjoyed it. The food is good and the decor is stunning. They add a few nice touches with their beautiful serving dishes and the hostess wears a kimono. I don't think you could find better Japanese in Egypt, but then again Egypt isn't known for Japanese cuisine…. more "
---
"Miyako is worth a try with reasonable food and reasonable prices. Its not 100% but its one of the better places to eat. we found it advertised on a leaflet from a suposedly better restaurant and we didnt regret going. more "
---
"We ate here twice during our stay in Luxor. Both times we were very impressed at the quality of the food. We had the set tapan yaki meal… one fish/seafood and one meat. The only thing to complain about would be that there was too much! The garlic rice is a must. You would have to be a very plain… more "
---
For more details visit Miyako Luxor Reviews