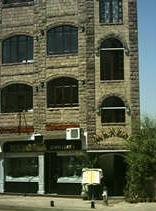 Maxime's has to be one of the best loved Luxor restaurants. I first found Maxime's
over 10 years ago and I go back each year to find its as popular as ever. 
This friendly little restaurant offers a good selection of Egyptian and
International cuisine at extremely reasonable prices.  No fancy decor but
it's spotlessly clean, the food is consistently good, unbeatable prices and friendly service. 
I can without doubt recommend this
restaurant.
"We have stayed in Luxor many times and each time we have our evening meals in Maximes. We have tried other places but have always come back to Maximes as we have found it the best. The lentil soup is the best! Wehave ordered most of the meals and they have all been good, the place is very clean and… more "
---
"Super value, good steaks, friendly service, very clean, polite waiters, we enjoyed it. My partner had several veggie dishes and felt they were bland – although she liked the place. I thought the meat dishes were great. It's a little 'basic' but you get what you pay for. Recommended, and I think it's the best one in this part of… more "
---
"we came across this restaurant has we have heard from people this restaurant is very nice , So me and my husband decide to try this, we had a walk around tv street and then walk down to maximes, the waiter was a nice man and gave us a window seat so we could see the real life of the… more "
---
"This place is handy if you are staying at the Sheraton, it's just round the corner and better than the hotel restaurants, a lot cheaper too. The place is not that big though so can get a bit crowded. The food is good and the service attentive and unobtrusive. They do a mean karkady and as they do not serve… more "
---
"Me and my daughter ate once at this restaurant, it was ok. The food was very nice but the waiters were terrible, we sat in the non smoking floor. Once we ordered we waited 15 mins and still hadnt had our drinks, and had to ask for them, the starters where served and when we finished the bowls were not… more "
---
"maximes……..after a few shaky starts we discivered Maximes…great menu,great prices great food,great service….our second favourite in Luxor…give it a try!!! more "
---
"We had a great meal (2 adults & 2 children) at Maxime, with a good choice from the menu. The food was good and the restaurant was very clean and reasonably priced. The staff were very attentive and helpful, and very good at keeping the kids happy and laughing. My only reservation is that the menu is best described as… more "
---
"average sort of restaurant not somthing to right home about no drinks on the menu more "
---
"Hi we were in luxor in december and went to maximes several evenings and really enjoyed the meals very nice food at very reasonable prices very clean place never seen windows so clean the restraunt is on the first and second floors the first floor is for no smokeing and second floors for smokers the staff are very friendly and… more "
---
"Partout, je lisais que ce restaurant à Louxor était "extraordinaire". La première fois, je me suis dit que c'était un… more "
---
For more details visit Restaurant Maxime Luxor Reviews