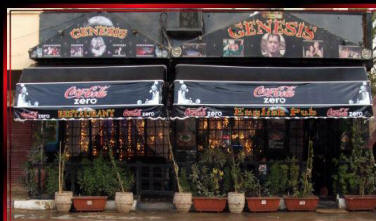 With all the new restaurants appearing on the scene the
Genesis Pub and Restaurant with Julia and Gamal at the helm is still going
strong. Freshly prepared food served in a friendly environment is why folk
return time and time again.  On offer is an extensive selection of Egyptian
specials, fresh seafood dishes, traditional English cuisine (mouth watering
steaks) together with pizzas, pasta and a wide selection of sandwiches if you
only fancy a snack.  A real family venue where you can enjoy a mixture of 
Egyptian and English evening entertainment.
"Once we found the Genesis Bar we kept going back for more. More entertainment, more food and more fun. The whole experience was amazing. We felt so welcome and we were treated so well. The food was out of this world, well worth the wait for freshly prepared local and English dishes.The prices were great too, much more reasonable than… more "
---
"The Genesis is in the Karnak area and is easy to get to by taxi for about 20 to 30 LE form anywhere in Luxor. This pub must not be missed. The food is great whether you choose European or Egyptian and is very inexpensive as are the drinks.Fillet steak from 45 LE. Beer about 15 LE. The decor of… more "
---
"I cannot recommend the Genesis bar and restaurant highly enough. A friendly welcome and a great atmosphere. The food is wonderful Gamel is a superb chef. The steak was the best we have ever tasted. Thanks Gamel for getting my husband to sing I'm too sexy. I have never laughed so much. Thanks for making our stay in Luxor a… more "
---
"If there is only one place you visit when you go to Luxor then it must be The Genesis Bar near the Hilton Hotel at Karnak. Fantastic Food, Staff, Service, Atmosphere and very very very good fun! Quiz nights, Karaoke and good old english food like bangers and mash and the only place in Luxor you can get BACON!!!!! Dont… more "
---
"I stayed in Luxor with my girlfriend from 29th Jul -12th Aug 2019. During this time we ate at Genesis 4 or 5 times. The food was excellent in both quality, presentation and price and was the main reason we kept returning. The owners are very friendly and there is a warm personal atmoshere. The chicken special is highly recommended! more "
---
"Until you step into the Genesis in Karnak you will not realise what a great place this is. The atmosphere and entertainment is great and the food is of great quality and price. You can have a full night out without spending too much and there is something for the kids as well as adults. Must recommend to anyone!!! more "
---
"Our team has traveled extensively throughout Egypt. I can honestly say it is the best of the best. They go out of their way to make you feel at home, they sit, talk and get to know you and all the while the owners are your cooks, hostess, wait staff. You may sit a few extra minutes waiting on your… more "
---
"What ever you wanted to eat,if it was on the menu or not both owners(julia & gamal) would try and accomodate you.We were part of a large group of friends & we ate here most nights,the food was well presented and never had a reason to complain about anything we ate.I would recommend Gamal`s Sunday roast even down to the… more "
---
"Thanks to Julia and Gamal, we have being going to Luxor for the past 5 years, we love Luxor and especially going to Genesis Pub and Restaurant, it's like going home , your made feel very welcome. The food is excellent because what ever you want they will cook it for you and there's no problem.What i really love is,… more "
---
"I have been travelling to Luxor for the past 27 years, and can confidently say that this is by far the best restaurant whether its for the personal service rendered by the owners or the innovative gests and above all tasty food that is so well presented. more "
---
For more details visit The Genesis Pub and Restaurant Luxor Reviews