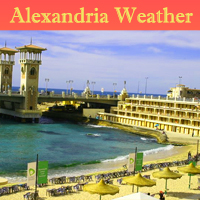 Alexandria has a hot desert climate like the rest of Egypt's northern coast. The prevailing north wind, blowing across the Mediterranean, gives the city a less severe climate than other desert resorts.
Rainfall is very welcome but not much seen, August is the hottest month in Alexandria with an average temperature of 26.5°C (80°F) and the coldest is January at 13°C (55°F) with around 14 hours of daily sunshine in July. The wettest month is January with an average of 1 inch of rain.
It usually snows on the Sinai mountains but almost never snows in Cairo or Alexandria.