Wondering about planning a vacation? We are pleased to announce that Worldwide Holiday Packages will soon be posting more articles on planning a vacation, holiday events in Sharm El Sheikh and in the whole south Sinai. Local News, Special offers from hotels such as Hotel Jaz Mirabel Park Sharm, Announcements for latest events, Openings of new Hotels, Diving centers and Clubs. All is now available at your finger tips so let us help with hotel room for your vacation. Be a frequent visitor, we have the best hotels we could find, and make use of our fast growing, free of charge services before you book your vacation to the resort in Sharm El Sheikh. Let us help turn your next holiday into the trip of a lifetime!
Looking for Holiday Reviews for the Hotel Jaz Mirabel Park Sharm?
Hotel Jaz Mirabel Park Sharm Holiday Reviews
My boyfriend and I have just returned from the jaz mirabel park and were very pleased with our holiday. We booked our hotel through thomson as an all inclusive deal for 10 nights for £540. We didn't book a package holiday as we are both airline crew and could get the flights at a cheaper rate. On arrival I was impressed with the overall appearance of the hotel it was lovely and clean. The rooms were also spotless and we had a third floor room with a huge balcony overlooking the pool. Weather was not less than 35'c the whole time we were there and we spent out time equally between the pool and
the beach a ten minute walk away. The beach was also a bit more breezy than by the poolside so was ideal in the hot weather. On arrival we were told we could not use our AI facilities at the other 2 hotels the beach and the club, however the snack bars will serve you any food and drink you ask for. I was worried about getting ill on the holiday but am glad to say this was not the case. All the food in the flooka restaurant was of a high standard, with a range of meats and side dishes every night. If you are prone to mosquito bites i would advise you take anti-histimine tablets with you. I was bitten at least 10 times on each foot and it cost me 120le in the pharmacy from the market to buy some tablets and bite cream. very expensive! The entertainment was lacking a bit in the hotel and this is the only criticism i have.The singers were awful! If you do venture out beware of the taxi drivers conning you. we paid 50le upfront for a taxi from naama bay back to the hotel. He then decided nearer our hotel we had not given him enough money and wanted to charge us more. We refused and he got a bit angry when we insisted on getting out. The hard rock cafe in naama bay was very cheap if you did want a change from the hotel food and the portions were huge.
If you want to book a diving or snorkelling trip then you can do so through Mr Diver. The reps always wander round the pool and beach during the day. We booked a snorkelling trip, visiting 3 sites and lunch included. The trip wasn't full either with just 12 of us on the boat all day. He spoke brilliant english and showed us what all the fish were and even filmed us on the underwater video camera to show back at the end of the trip.
we also booked 2 egyptian massages through the hotel costing 600le for both. These were an hour long and well worth the money for a bit of extra relaxation.
Overall my first trip to Egypt was a good one and would definitely be back.
We went to the Red Sea for the first time to celebrate our Pearl Wedding anniversary. Having listened to freinds and family who have been to Sharm el Sheikh before we had mixed feelings before we arrived, but the first impressions of the resort were excellent and then made better as the days past. The hotel was impressively clean and the rooms were excellent. The service in all the resort was without question the best we have ever experienced. The staff were always pleasant, helpful and impeccable with everything they did. The food in the restaurants was good and there was always plenty of variety, which pleased us as we were expecting the food to be a problem. Neither of us suffered the Pharoah's Revenge we had been told to expect.
If we had any criticism about the holiday it would be that the resort restricts the "All Inclusive" to the individual hotels, but you are free to walk around the extensive grounds, pool areas and enjoy the entertainment/activities in any hotel but you cannot get a drink unless you return to your hotel, which seems to be a strange system.
On the whole a thoroughly enjoyable two weeks and great value for money.
Oh by the way if you are going to the resort select the Mirabel Park over the Mirabel Beach, it is exactly the same but about 300 pounds a person cheaper!!!
You wont be disappointed with this Hotel in any department everyone from Management to cleaners are efficent in every way, staff both restaurant and bar and pool are there to make you feel like royalty, very friendly but not pushy.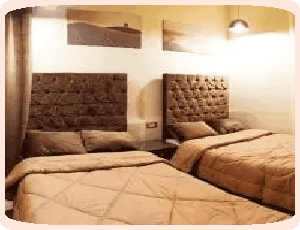 Sharm Hotels
Some ideas for exciting stuff to do in Egypt
Use the map for suitable areas!.
Mit Ghamr Dovecotes – Giant pigeon houses packed into city streets in Egypt. (Sharm El Sheikh)
Enjoy at Makadi Bay Water World. (Luxor)
The Cairo Genizah (Cairo) Hundreds of thousands of ancient documents offer a unique glimpse into Jewish life in Cairo.
Spend some time at Aswan Botanical Garden. (Marsa Alam)
Spend some time at Aswan Botanical Garden. (Marsa Alam)
More Hotels in Egypt
Take a Taxi to Sharm
Egypt is an absolute nightmare for auto travel and getting to the Hotel Jaz Mirabel Park Sharm or nearby resorts can get a real pain. So why not take a pre-booked taxi and arrive at your hotel relaxed? You really don't want to take a random taxi, even at the airport, so try and book a reputable Sharm taxi firm in advance.

Popular Hotels This Week