Looking for Holiday Reviews for Nor Lanka Hotel?
Nor Lanka Hotel Holiday Reviews
"Our family stayed at the this the first week that it opened and thoroughly enjoyed our stay. The service was brilliant from the moment we arrived. We were really impressed with how smoothly everything went considering that they had been open for only 2 days!. We were in Sri Lanka on our honeymoon and were upgraded on arrival to the"
---
"We spent 6 nights at Nor Lanka and found it to be perfect for what we wanted at Unawatuna. Anoma Helge their kids and Lal welcome you into their hotel in a relaxed yet professional way. The room we stayed in was simple but was clean and had everything we required. Breakfast was always excellent as were the two evening"
---
"Nor Lanka is a wonderful place to stay with friendly and helpful owners and staff. Many hotels in Unawatuna are located on the beach whilst this sounds very romantic the beach can get quite busy and noisy at times so being in a hotel that is set back a little is actually a positive particularly when the hotel has wonderful"
---
"All has been said about NorLanka. But I promised to leave a little message so here it is. Helge and Anoma your hotel is great. The food is extremely good and finally your hotel is a wonderfull place to come home to. To sit down have a bear and relax after long day of work or after a hot sunny"
---
"i was on a 14 days vacation it`s the best vacation i ever had a hidden pearl in the tropes every thing was great the food the roms the beach but greatest of all was the people that runned this place wen i get the chance i`ll come back to this nice hotel. more "
---
"We had a fantastic month in N.L. Lovely tasty food clean room and our clothes washed. Staff was polite and professional. Our hosts Helge and Anoma made our holiday memorable with making us feel at home not only us but the rest of the guests of the hotell became the Nor Lanka family. The beach in Unawatuna is marvelous only"
---
"This wonderful small hotel/ guesthouse has not yet made it to the Lonely Planet or Rough Guide pages. I stayed there with friends on a personal recommendation and it is clear that this a factor which makes the Nor Lanka such a friendly comfortable and relaxing place to stay. The owners Helge and Anoma make all guests extremely welcome and"
---
"we stayed at Nor Lanka 35(!) days in jan./feb.09 and we loved every one of them it was not one day too much and we were very sad when we had to leave due to a booking elsewhere. The rooms at N.L.are very clean and nice (rooms are made up every day thoroughly apparently more the exception than the rule "
---
"Stayed at the Nor Lanka for 2 nights during our recent Sri Lanka trip after finding it on tripadvisor. Yes it is very good basic but adequate rooms very clean nice owners who will arrange anything for you. Only 10 rooms (i think) here so its usually nearly full. Free internet. Helges brother in law also took us to Colombo"
---
"Thanks to TripAdvisor we booked for 2 weeks at the Nor Lanka. Great hosts.Good food. Multi National clients. Good location yet only a few yards from the Beach. Plus free wi-fi!!!!!!!!!!!! Wonderful:-) more "
---
Unawatuna Cheap Hotels Hotels
SriLankan Air Taxi to Unawatuna Cheap Hotels
Sri Lanka is a land that is truly blessed by Nature. Its beauty unfolds in myriad ways and with so much to see, time is precious and getting to the Nor Lanka Hotel or nearby resorts can get a real pain. So why not take a Sri Lankan air taxi and arrive at your hotel unstressed? Internal flights in Sri Lanka operate from a dedicated domestic terminal at the Bandaranaike International Airport and fly to Colombo City (Waters Edge, Kotte), Bentota, Dickwella, Koggala, Kandy, Castlereagh, Sigiriya, Batticaloa and Trincomalee.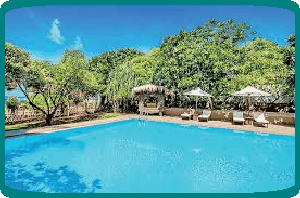 Popular Hotels This Week