Wondering about where to go on holiday? We are pleased to announce that Worldwide Holiday Packages will soon be posting more articles on where to go on holiday, holiday events in Sharm El Sheikh and in the whole south Sinai. Local News, Special offers from hotels such as Nubian Island Hotel Sharm, Announcements for latest events, Openings of new Hotels, Diving centers and Clubs. All is now available at your finger tips so let us help with accommodation for your vacation this year. Be a frequent visitor, we have some top quality hotels, and make use of our fast growing, free of charge services before you book your vacation this year to the resort in Sharm El Sheikh. Let us help turn your next holiday into the trip of a lifetime!
Looking for Holiday Reviews for the Nubian Island Hotel Sharm?
Nubian Island Hotel Sharm Holiday Reviews
Just returned after 1 week at the Nubian Island. Was our 5th time at this hotel so we have seen some changes. The staff are still the same,always looking after us. the food has definately improved,as has the entertainment at night. only downside is,that it still caters mainly for the russian and italian guests. we had a bungalow again which are always nice,with your own little garden. the only other thing i would say is that i would not recommend to people with wheelchairs. i will definately be going back soon to see all our friends and to chill out .
We have just returned from a one week stay at Nubian Island Hotel. We travelled with another family of four so in total we had four adults and four kids aged between six and nine.
We had a great holiday, the hotel is a bit outside the main town but its worth going in on the free hotel bus or a local blue and white cab( pay about £50 egyptian pounds for the cab one way) for shopping and the odd meal out.
The hotel was really clean and well maintained, the staff really friendly and helpful. The pool close to the beach was warmer than the top pool for the kids. Lovely weather, good food and good service. We stayed in a standard room and if we had been there for two weeks would have preferred a bungalow with a bit more space but the room was not the smallest we have ever had.
I took antibacterial dry hand wash and used it all the time, on the last day my husband and i got a bit of upset tummy but got some pills at the pharmacy over the road for under £20 which cleared it up straight away. The food was good and quite varied good for breakfast and lunch but we went out in the evening a few times just for a change . Also hotel did not really have any evening entertainement so bit stuck for things to do come the evening. Lots of italians and russians holiday there so the english are the minority, but not really a problem.
Visited this hotel with my husband at the end of April.
Pluses:
– superb territory, not large but veeery beautiful and secluded, with the small river, cozy bungalows, huge number of flowers, trees etc.
– pleasant beach with palms, enough space and sunbeds for everybody whatever you would like to come
– variable dishes of local and European quinine
– beautiful corals and comfortable jetty
– wonderful fitness centre
– closeness to Naama bay
Minuses:
– poor animation in Italian
– not very obliging and amiable waiters
– no bar at the beach
– often strong sea current that excludes snorkeling on that days
Hotel is pro-Italian that was a real pleasure for us, but somebody can have opposite opinion.
Enjoyed our holidays very much!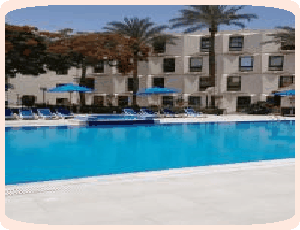 Sharm Hotels
Some great ideas for amazing places to do in Egypt
See the map for suitable areas!.
Visit Avenue of Sphinxes. (Luxor)
Cave of Swimmers (Al Wahat Al Dakhla Desert) A hyper-remote desert cave dramatized in "The English Patient."
Visit Avenue of Sphinxes. (Luxor)
The Aquarium Grotto Garden (Cairo) A strange aquarium with stuffed fish, and almost no water for them to swim in.
The Aquarium Grotto Garden (Cairo) A strange aquarium with stuffed fish, and almost no water for them to swim in.
More Hotels in Egypt
Take a Taxi to Sharm
Egypt is an absolute nightmare for auto travel and getting to the Nubian Island Hotel Sharm or nearby resorts can get a real pain. So why not take a pre-booked taxi and arrive at your hotel relaxed? You really don't want to take a random taxi, even at the airport, so try and book a reputable Sharm taxi firm in advance.

Popular Hotels This Week