Wondering about sorting holidays? We are pleased to announce that Worldwide Holiday Packages will soon be posting more articles on sorting holidays, holiday events in Sharm El Sheikh and in the whole south Sinai. Local News, Special offers from hotels such as Nubian Village Hotel Sharm, Announcements for latest events, Openings of new Hotels, Diving centers and Clubs. All is now available at your finger tips so let us help with hotel for your needs for your vacation. Be a frequent visitor, we have some great hotels, and make use of our fast growing, free of charge services before you book your vacation to the resort in Sharm El Sheikh. Let us help turn your next holiday into the vacation of a lifetime!
Looking for Holiday Reviews for the Nubian Village Hotel Sharm?
Nubian Village Hotel Sharm Holiday Reviews
Have just returned from the Nubian Village following a really enjoyable and relaxing week. There were 8 in our party (4 x adults, 2 x 14 yr olds, 2 x 12 yr olds) and we all had a really good time.The hotel was very clean especially around the pool and aqua slide areas and the daily maid room service was also excellent. Without exception the staff were friendly and helpful and they went out of their way to make the atmosphere relaxed and welcoming. The food was OK – it was always well cooked and there was plenty of it but we have been to all inclusives with a bit more variety during the week. Poolside entertainment was provided by 2 Russians (Olga and Arteom) who did a really good job during the day but the evening entertainment was poor (questionable Egyptian dancing, a bloke jumping up and down on broken glass and badly cutting his feet, karaoke, Mr & Mrs competition !!). The hotel does attract a lot of Russians and Italians and the hotel theatre appears to be exclusively reserved for the entertainment of Italian guests in the evenings. We didn't go on any excursions but other English guests recommended the Egyptian Day (quad biking, camel ride and Bedouin experience) but not the pyramids trip (over priced and very disappointing due to the constant harassment from street selllers).
All in all a very enjoyable week – we would go back.
My husband and went with our 7 year old son and our friends with their 2 children aged 3 and 6, and another couple with their 13 year old son.
We had family room with an interconnecting door and a joint balcony, we did not ask for this but it was a suprise which worked out well with the kids playing together without having to keep knocking on the door.
The hotel was lovely and the staff was fantastic as well very helpful and with the the occasional tip the drinks really flowed. Give the tips in their money they struggle to change English money.
The pool was great, the staff around the pool after 2 days asked if we wanted our towels putting out for us in a morning and with a tip we got up every morning and our beds was reserved with the towels on ready and without them I would have had to get up every morning around 7.30 am to get a bed, with there being 10 of us we would have struggled to get even 5 beds.
The second pool is just as good, it is closer to the beach but their was alot of Italians and the entertainment was very LOUD.
The beach was nice but I was a bit dissapointed with it being on different levels and very rocky, once past the rocks with your flip flops on it was really good to take out a snorkel to see the variety of beautiful fish very tamely swimming around your legs.
The entertainment at night was very limited but with young kids the Disco was great, Olga and her son did the day and night entertainment around the pool with the slides in the day and at night in reception you just could not help but join in, but that was about it.
The food was really nice we was not disappointed at all, the Italian which you had to book for.It only had 10 people in when we arrived and it was the same Pizza as in the buffett resturant, except for you could sit near to the pool which is lovely but when it is 40 degrees its nice to have the aircon in the resturant
The weather was very very hot most days it was 40 degrees plus we had to be really careful with the kids but with plenty of factor 50 and swimsuits they did not burn at all.
We did get what we call the Tegypyt Trotts, between the 10 of us we all had it and was quite bad at times, the rep said that it was because of the extreme temperatures with it being hot and having cold drinks icecream and then going into the hotel where the aircon was she said that it gives you Stomach flu,you have to buy their remedies from the pharmacy across the road which with 24 hours is supposed to work if not their is a doctor that will give you a jab in the bum, we did not need that but probably should have seen him but we struggled through.
We would definetly go again maybe not to the Nubian but only because there are other hotels to try in Sharm, the weather is fantastic and the people are lovely, we all had a really good time and I cant wait to sample the charms of Egypt again soon.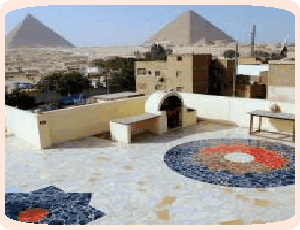 Sharm Hotels
Some suggestions for exciting stuff to do in Egypt
Check the map for suitable areas!.
Take an adventurous trip to Jungle Aqua Park. (Cairo)
Nilometer (Cairo) An ancient instrument used to measure the waters of the Nile so Egyptian farmers would know whether to expect famine or flood.
Enjoy cable wakeboarding in Hurghada. (Hurghada)
Watch opera or theatre in Egypt at Cairo opera house. (Alexandria)
Watch opera or theatre in Egypt at Cairo opera house. (Alexandria)
More Hotels in Egypt
Take a Taxi to Sharm
Egypt is an absolute nightmare for auto travel and getting to the Nubian Village Hotel Sharm or nearby resorts can get a real pain. So why not take a pre-booked taxi and arrive at your hotel relaxed? You really don't want to take a random taxi, even at the airport, so try and book a reputable Sharm taxi firm in advance.

Popular Hotels This Week