Wondering about planning a vacation? We are pleased to announce that Worldwide Holiday Packages will soon be posting more articles on planning a vacation, holiday events in Sharm El Sheikh and in the whole south Sinai. Local News, Special offers from hotels such as Oriental Rivoli Hotel Sharm, Announcements for latest events, Openings of new Hotels, Diving centers and Clubs. All is now available at your finger tips so let us help with hotel for your vacation. Be a frequent visitor, we have some really exotic hotels, and make use of our fast growing, free of charge services before you book your vacation to the resort in Sharm El Sheikh. Let us help turn your next holiday into the holiday of a lifetime!
Looking for Holiday Reviews for the Oriental Rivoli Hotel Sharm?
Oriental Rivoli Hotel Sharm Holiday Reviews
I absolutely loved the Oriental Rivoli! I have been vacationing in Sharm for 6 years now and know the area very well, I can confidently say it is by far the best place to stay! I was treated like family from the first moment. All of the staff were polite and sought to make our stay pleasurable. I forgot a silver ring in my room and as I was at reception leaving I found one of the housekeeping staff running to return it to me. I was so thrilled! Later that night in Cairo the hotel telephoned my friend to inform him he had forgotten his coat in his room and could they send it to him somewhere. Truly outstanding service and high integrity at the Rivoli! The hotel itself is beautyfully decorated with an authentic Middle Eastern style. It has all the amneities one expects of a 5 star hotel without the pretension. I am returning in August and will never stay anywhere else whenever I go to Sharm! Thank you to all the staff and keep up the great work.
Just back from spending a lovely week in the Oriental Rivoli. Staff very friendly and helpful. Only on B & B but had a few daytime meals round the pool which were very nice. We upgraded to a room with a balcony overlooking the pool, the room was decorated to a high standard, and was kept very clean, and most days the cleaner made bed art which was a very nice touch. About 5 mins from the beach and 20 mins walk along the promenade into Naama Bay, which is a nice walk especially after eating to walk your meal off. Dont walk along the main road as the taxis will drive you barmy. 3 swimming pools with loungers around them, although it wouldn be nice if one was heated as they were freezing, no need to take towels as these were supplied. Would definately go back again. Mustnt forget to mention Totti the barman he was so friendly and helpful, and made the stay very enjoyable.
If you want a lovely hotel with excellent personal service not a big sprawling complex the Oriental Rivoli Hotel is for you, 3 pools and five bars not to busy. Pay a little extra for poolside superior room. The minute we walked in we were made to feel special by Ehab Atef and Ramadan on reception, also a special mention for the reception barman Mohamed for his friendship during our two week stay.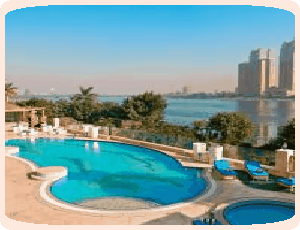 Sharm Hotels
Some thoughts for amazing places to do in Egypt
Check the map for suitable areas!.
Relax around the Magic lake in Fayoum. (Cairo)
Eat endless amounts of Falafel sandwich in streets of Giza. (Giza)
Explore fortress of Shali in Siwa Oasis. (Cairo)
Walk through the valley of artisans. (Luxor)
Walk through the valley of artisans. (Luxor)
More Hotels in Egypt
Take a Taxi to Sharm
Egypt is an absolute nightmare for auto travel and getting to the Oriental Rivoli Hotel Sharm or nearby resorts can get a real pain. So why not take a pre-booked taxi and arrive at your hotel relaxed? You really don't want to take a random taxi, even at the airport, so try and book a reputable Sharm taxi firm in advance.

Popular Hotels This Week
Domina Coral Bay King's Lake Hotel Sharm