Wondering about planning a holiday? We are pleased to announce that Worldwide Holiday Packages will soon be posting more articles on planning a holiday, holiday events in Sharm El Sheikh and in the whole south Sinai. Local News, Special offers from hotels such as Calimera Royal Diamond Beach Hotel Sharm, Announcements for latest events, Openings of new Hotels, Diving centers and Clubs. All is now available at your finger tips so let us help with accommodation for your holidays. Be a frequent visitor, we have some great hotels, and make use of our fast growing, free of charge services before you book your holidays to the resort in Sharm El Sheikh. Let us help turn your next holiday into the best vacation ever!
Looking for Holiday Reviews for the Calimera Royal Diamond Beach Hotel Sharm?
Calimera Royal Diamond Beach Hotel Sharm Holiday Reviews
We always read the reviews then go and make up our own mind. We are glad we did this here. Hotel is spotless, rooms are modern and clean. The staff love the English and we got excellent service. We did tip but only a couple of pound and always to reward good service. The Food was good and plenty of choice. Try the Italian, its not just italian food and is smaller and more relaxed than the main restaurant (although the dress code is inforced here in the evening) Men need long trousers and closed toe shoes, trainers are fine or smart sandals just no flip flops.
We tried the beach b-b-q in the evening which was nice, not much choice but a nice relaxed atmosphere. You need to book but it is part of the all inclusive. Also tried the Indian this was amazing. Drinks are included but food was about £15 each but was 6 courses.
All drinks are self service from the bars in the restaurants so dont sit waiting to be served.
Lobby bar is lovely, relaxed and spotless and a small tip will ensure you a waiter for the evening ( or in most cases the whole holiday)
Dont forget the upstairs terrace – by the indian restaurant this again is very quiet and a great view point.
The main pool is really nice but not heated and still a little cold for us. There are two other pools though. The one on the middle level is heated but we dont think it had a bar. The other heated pool on the same level as the reception was our favourite. As its heated it does attract the kids but there is enough room for everyone.
No worries with sun beds. We worried about reports of bed being saved ect but there was still beds available at 10am. Everyone with kids came down about 10am and left again for lunch about 12. 30 Leaving us with the pool to ourselves on many occasions throughout our stay. The towel guy mohammed was great and got us a brolly and beds each day along with clean towels whether we needed them or not!! The pool bar had two great waiters, Ahmed Mohammed and Mohammed Hamby who waited on us like VIP's. Yes we tipped them but they were brilliant. We never waited for a drink and were always sent back to our beds for them to bring the drinks for us.
Room boy did a brill job and thanked us for keeping our own room so tidy. Every day we returned to our room to a beautifully decorated bed.
There are a lot of Italians here but they never bothered us. The staff really do prefer the English and we were well looked after. As the only Brits there that week we were treated a bit like celebrities!!
So, hope this has given you an insite into this hotel. Please give it a try and hopefully you will be as pleased with it as we were. We are booking for a week again in April next year. We go to the Maldives for our main holiday every year and are used to the 5* accommodation and service that is expected from that type of holiday but we were really satisfied with this hotel and the staff. This as our third trip to Sharm and the best so far.
We had 10 days of sheer bliss.The food was so varied meals were different every night.we had no health problems with the food.The waiters couldnt have been nicer ,nothing was too much trouble for them.
As for the hotel itself we couldnt fault it ,we had a beach front appartment and to see the sun rise through the window every morning was awesome.
Snorkelling was amazing our friends saw turtles and we saw dolphins the colours and varieties of fish were the best we have ever seen.
This hotel and the resort is a must .we didnt want to come home we wished we had booked for 2 weeks.
Will we be back next year?All being well most definately!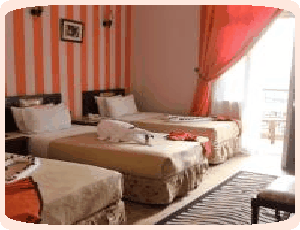 Sharm Hotels
Some ideas for interesting things to do in Egypt
Check-out the map for suitable areas!.
Muzawaka Tombs (Al Wahat Ad Dakhlah) The forgotten mummies of Dakhla oasis.
Take a walk through petrified forest protected area. (Cairo)
Visit Royal Jewelry Museum. (Alexandria)
Adventure at Aqua Blue Water Park. (Sharm El Sheikh)
Adventure at Aqua Blue Water Park. (Sharm El Sheikh)
More Hotels in Egypt
Take a Taxi to Sharm
Egypt is an absolute nightmare for auto travel and getting to the Calimera Royal Diamond Beach Hotel Sharm or nearby resorts can get a real pain. So why not take a pre-booked taxi and arrive at your hotel relaxed? You really don't want to take a random taxi, even at the airport, so try and book a reputable Sharm taxi firm in advance.

Popular Hotels This Week